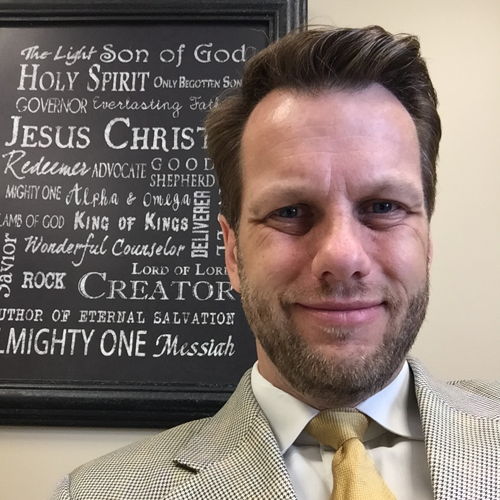 Steve B.
from KS
Story #180
If you're reading this we have likely connected in some way. First, let me say thank you for taking time to check it out. That means a lot. There is one thing for certain, this is not an accident and did not happen by chance. God has uniquely created you on purpose for a divine purpose and my prayer is that my story will help you get closer to discovering God's plan for you.

As a single parent my mother raised me until I was about seven years old. She had a profound impact on my life and was the one who taught me how to play baseball, the sport I enjoyed during my younger years. Her work ethic was incredible, her drive to accomplish things and provide for our family was unmatched. There were many times she would take me to work with her because there wasn't a sitter available. Other times, I would stay with family or her friends. I can also remember helping her stuff envelopes and send mailers when she first started a data entry business in the late seventies. She was amazing. Tragically, when I was 11 years old, she died in a drowning accident which led to some very difficult times but fortunately we were surrounded by family and loved ones to help us through.

I often tell people we have a family forest not a family tree, because of how the wide variety of relationships have come about in our family. My adopted dad later remarried and together they raised me and my two brothers. Things were comfortable and we had the opportunity to enjoy incredible experiences early on. Growing up our family attended a variety of churches. Catholic, Baptist, Methodist, and Presbyterian, but we were never really involved. For a season we even watched church on television. Had you asked me if I believed there was a God and that Jesus is His Son who died on a cross for the forgiveness of sin, I would have said yes and truly believed it. Despite all of that, I did not live as a person who professed Christ ought to. My thoughts, heart and actions were far from what a genuine Christian should be. Sadly, I did and said a number of things that were inappropriate at the time and unknown to most people. In particular, how I treated those of the opposite sex. Looking back, I have some real regrets but thankfully God has a way of righting wrongs and healing wounds.

Here's how it happened. While attending college, a student invited me to a Bible study. After getting together on a number of occasions, at some point, he shared James 2:19 with me. It says, "You believe that there is one God. You do well. Even the demons believe and tremble." That verse really awakened a better understanding of eternity. I certainly didn't know much about the Bible, even though I had been to church many times, but it didn't take a rocket scientist to know that even though demons may know who Jesus Christ is, they will not spend eternity with Him in Heaven. This opened my eyes that there must be something more to just having an intellectual head knowledge of who Jesus is. In November 1993, I was at a convention in Atlanta, Georgia and the speaker shared how Jesus Christ had transformed his life. I was intrigued and listened to every word. Toward the end of his talk he challenged everyone there to let God do the same in our lives. At that moment, I felt a strong desire to get things in order, to get right with God, but needed to be willing to put my pride and ego aside and come to a point of understanding that I don't have it all figured out. That day I surrendered my life to Jesus Christ.

While I probably looked OK from an outside perspective, my heart, soul, and mind was in need of a real change. All of those poor decisions I had made and the many things I had said and done toward others that were arrogant, selfish, and careless. Through Christ, He truly offers true liberty and freedom in life, beyond what any other person can provide. It's amazing what happens when we're able to release the baggage we get bogged down with in life and no longer have to carry it around.

Some might say, why do you need God to have that kind of liberty? Why not just live and let live? Well, it's because no matter how hard we try to be a "good person" we still will make mistakes and fall short. Every single one of us can be selfish and are an imperfect person. We can't help ourselves, it's our human nature. The only way we can have true peace and joy in our lives despite what goes on in the world around us, is through the forgiveness Christ, He offers hope and provides for a brighter and eternal tomorrow. Since that day in Atlanta, I've met my biological father and we have developed a great relationship along with his wife and another brother I didn't know existed until we met. Later God called me to dedicate my life to Him in full-time Christian service. What a blessing to be able to share His message of love, grace, forgiveness, and hope to those God places in my path. Since then, I met my wonderful wife and we are truly blessed with two incredible sons.

Being a Christian certainly doesn't mean perfection, or that life is going to be easier, it just means forgiven. Through Christ, God will provide a way to have greater peace and understanding along the way and gives the capacity to forgive others when they fall short. I give God thanks for how He can take a person like me, no matter how wretched, or what stage of life I'm in, then transform us into the person He desires us to be. The better me. The first step to discovering God's plan in your life is allowing Jesus to be in it. I encourage you to learn more about how you can take that step by clicking the "Learn more about Jesus" button and begin your journey with Jesus Christ just as billions of others have.

If I can personally be of any support or encouragement to you please shoot me a quick email. I would consider the opportunity an honor. Thank you again for reading and God bless, Steve.
---
Click here to send a direct email to Steve.
You can learn more about Steve
here
.
The above link will take you to a site not related to 1MillionStories.org. We do not endorse opinions expressed on external websites due to the inability to properly review the content of every linked site.