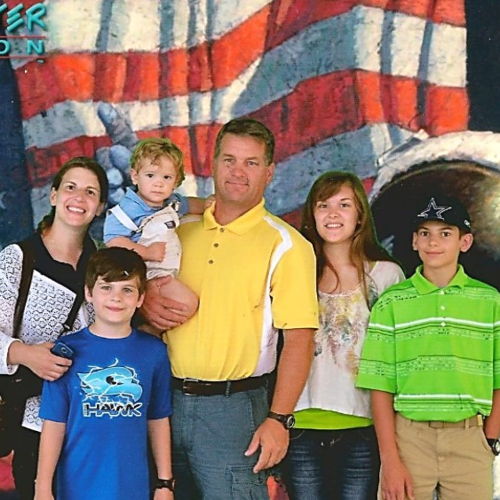 Suzanne W.
from MO
Story #333
"It has come at last—salvation and power and the Kingdom of our God, and the authority of His Christ. For the accuser of our brothers and sisters has been thrown down to earth - the one who accuses them before our God day and night. And they have DEFEATED him by the BLOOD OF THE LAMB, and by the WORD OF THEIR TESTIMONY, and they did not love their lives so much that they were afraid to die." Revelation 12:10-11

I am living proof that God will most certainly take your testimony and use it to trample and defeat satan and his plots and plans. And with that said - may God Almighty use what HE has done in my walk for His glory and may it defeat the enemy in all those who read it, in Jesus' Name.

My name is Suzanne. I was raised in a home with a parent who believed in God and a parent who believed there was a God but told us constantly that we would never go to Heaven - because we were not good enough. My mother was Catholic. My dad was raised in a very legalistic religion. I had an older sister that got saved as a teenager. I was 6 the first time I heard the message of salvation from her. At 12 years old I went on a winter retreat with her church's youth group. During my first ever worship experience of praising the Lord through music, I had an encounter with the Lord. When the Gospel message was given, I went forward to give my life to the Lord. Unfortunately, after that, I returned home to a house in spiritual confusion and denial. My older sister was away at college. I tried to read the Bible. I listened to Christian music (Amy Grant and Michael W Smith - it was 1982). But I had no discipleship. I went through my high school years believing I was a Christian. When people asked me if I knew Jesus or was saved, I'd answer yes. However, by college, my life did not represent a Christian life. I had fallen into sin - alcohol, pre-marital sex and yet still believed I was saved, relying on a 12 year old's prayer. By the time I was 22, I had an abortion and had lived with someone outside of marriage. By the time I was 26, I was a college educated woman dancing in an strip club and drinking everyday and smoking a pack of cigarettes a day and living with another man who I was not married to. I still believed I was a Christian.

At 27, I was undone with my life. I was a wreck in every sense of the word and was steps away from drugs and prostitution. Every person I worked with did drugs and "dated" customers. I hid my life from my older sister and to a degree from my parents (although they knew where I worked by that point). After a conversation I had with my older sister where I asked her if she was happy and she explained to me about JOY and trusting in Jesus - I prayed. I was alone in my bedroom and crying out to God in my heart. I hated my life. I hated what I had become. I was afraid of what I saw before me (drugs and worse). I prayed and asked God if He was real to show me. I told Him that I was sick of pretenders and people that said they knew Him but didn't. People like me that said they were a Christian - but if this was what Christianity was - then I didn't want it. I cried my heart out to God. I asked Him to send me someone that was real - that truly believed the things of the Bible. I asked Him to let me see Him in this person - and or it to be HIM. I didn't want counterfeit (even though I didn't quite say it like that at the time).

After that prayer, I tried to get my life right. I tried to quit smoking - it lasted a week. I tried to quit drinking - it would last a couple of days. I couldn't do that job without drinking - so I usually could go a day or two and then give in. I tried to get a different job. But I felt dirty and was fearful that people would know what I was. So I quit before I even started. A couple of months went by. I got mad at God for not answering my prayer. I tried and tried to fix the mess of my life but I kept falling back into the mire and mess.

One day at work, I decided to ONLY drink water. I decided that would be the day I would finally quit smoking. I went to work and was going about my day. A customer came in. He was weird. They made me sit with him. I didn't want too. He was with a group of construction workers. He stayed an hour. He ignored me. He drank a Dr. Pepper. He kept talking to the waitress. Then he said it was time to go. He gave me $20 and tipped the waitress a lot more. I got mad. I cursed him and yelled and acted in a way that was not normal for me at my job. I stormed off. I was called back. He said, "Why are you mad?" I told him off. He then said, "I know what I am about to say will sound crazy but listen, I did NOT want to come in here. My workers thought it was a joke to bring me to this place. I got in the car to leave and I heard the Lord say, there is someone in there you need to tell about me." I thought to myself, oh no this guy is crazy. He then said, "I thought it was the waitress, but when you got mad, I heard the Lord say, "her". The Lord wanted me to tell you, "He loves you and He heard you that night you were alone in your room. He sent me to tell you that He is real. He heard your prayer. He has something better for you then this." I began to cry. Right there in that dark, dark place of iniquity. He then shared his testimony of how God radically saved his life.

Fast forward - that man became my husband. We have been married 18 years. He led me in prayer to truly accept the Lord as my Savior - fully understanding what it meant to surrender to His Lordship. The Lord heard my cry. He answered. He saved me. He delivered me. He changed me!

In the last 18 years I have faced many obstacles and suffered some hard experiences. Included in those experiences were prison. I served 21 months in a federal prison for bank fraud as a result of construction loans that failed and business dealings that were corrupted. While I did not do what I was convicted at trial for - I did do other things that did NOT line up with the Lord and His Word. Those 21 months changed my life in ways that I didn't know needed to be changed. My pastor said to me as I faced trial - the truth will set you free. When I was found guilty I was devastated. What I didn't know at the time was the TRUTH (JESUS) had come to set me free from things that I didn't know I was in bondage to and didn't understand. He delivered me from hurt and childhood pain. He helped me walk in forgiveness and grace. Through that trial - He changed me. I often say to those who know me and those who don't personally know me - I would NEVER change a second of going to prison. While I was grieved to leave behind 3 beautiful little children, and grieved to be labeled a felon and mortified to have stuff all over the news and the internet - GOD met me and He led me into a deeper intimacy and authentic relationship than I had ever known.

And today, I see Him continually taking me deeper and deeper into relationship with Him. I am blessed to homeschool 4 amazing children. I am a wife to a man that loves the Lord and works daily to serve the Lord. Together we are all on a journey of worshipping the Lord God Almighty in Spirit and Truth!