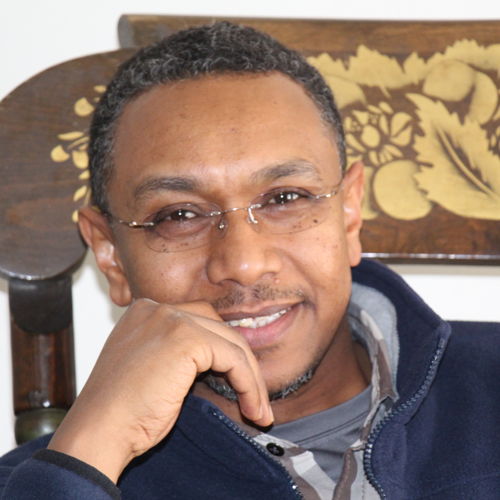 Aki D.
from KS
Story #346
My name is Aklilu Abebe Damtew. I was born and grew up in Addis Ababa, Ethiopia in a family from the Ethiopian Orthodox Tewahedo Church. I inherited my parents' religion and considered myself as true Christian even though I did not have a personal relationship with Jesus, and my life did not match with who I claimed to be. I did not realize what the Bible says about becoming a Christian was far apart from how I had perceived it. Just because I was born in a family from Orthodox and baptized as an infant, I had thought I was a believer.

I went to college with this subjective perception and I remember a student who tried to witness to me and my friends about Christ; but we were not receptive. We all pushed him away. Well, I don't remember him coming back to us again.

After graduating from college, I began to work as a high school physics teacher and continued to live as if God doesn't exist at all even though I said I was a Christian. Five years later, I was invited by a friend to join a group of Christians in the Orthodox church and to play guitar for their choir. They had already been meeting together for a little bit over a year when I joined the group. They met to worship and to listen to messages from the Bible. That is where and when I began to open the Bible and read what is in it.

The more we read the Bible, our eyes began to open to see the difference between what the Bible says and some of the things believed and practiced in the church. We asked a lot of questions but the only way to get answers was to go back to the Bible and read more.

Gradually, we came to realize that the most important thing we need was a personal relationship with Jesus Christ and accepting Him as our personal Lord and Savior. Even though most, if not all of us, cannot pin point a specific date for the experience of our conversion, I prefer to say that we found ourselves having believed that we were sinners and the only savior from eternal death is Jesus Christ. The name Jesus became so common in our conversations to the extent that others in the Orthodox were suspicious that we changed our religion. We didn't change our religion. We were just believing members of the Orthodox church and we were trying to practice what is written in the Bible.

However, the suspicion grew to an intense dialogue and in May 1996, the church decided to kick us out of their compound. We tried our best to go back in but with no success. That decision forced us to take a major transition from our identity as Orthodox to becoming just a group of believers. Myself and few others had taken the leadership of the group working hard to stay united and move forward to a destiny we didn't have any clue of at the beginning. And we did not have any association or identification with other evangelicals in the area. The whole story of the group's progress afterwards is long. But one thing worth mentioning is that we were purely guided by the Holy Spirit and His Word, the Bible, to grow and continue to heavily influence many in the city, the region, and also the whole country for the praise of God's glory. In the process we began to identify ourselves with the evangelicals, and currently that group is one of the biggest evangelical denominations in Ethiopia.

That said, it is not my transition from the Orthodox to evangelical group that I would refer to as my conversion or my salvation. I still respect the Ethiopian Orthodox Tewahedo Church for what many in that church have contributed to preserve the Christian faith in the country for centuries. Still today, there are many converted and true believers in the Orthodox Church as there are many in the other denominations. I dare to say this because the biblical standard for salvation is not to be born and grow up in one or the other Christian denomination. The biblical standard for salvation is personal faith in Jesus, accepting Him as the only savior from eternal death through his death on the cross and accepting Him as Lord over our lives which we must display it through biblical lifestyle.

My decision was not easy because it was considered to be changing religion and that is not taken lightly by parishioners in the Orthodox church. I was separated from my father for 11 years because of my faith. It was not easy but, praise the Lord for after 11 years of prayer, my dad realized the need for a Savior and accepted Jesus Christ as his personal Savior and Lord. And four years later, he went to be with Him.

I believe in Jesus as the Christ, as my savior and my Lord, and I intentionally strive to please Him in my daily walk being guided by His Word. That does not mean I am perfect, but as a disciple of Jesus Christ, I see myself growing in trying to become a better person today than I was yesterday and to become a better person tomorrow than I am today. I believe this has been happening through studying the Word of God and guidance of the Holy Spirit through prayer.

When I look back to what kind of person I was 25 years ago and compare it with what kind of person I am now, I have many reasons to praise the Lord for. I have received abundant blessings from Him. And when I look around and see many who are not enjoying such blessings, and compare them with myself, my heart burns with the desire to let them have at least what I have. I believe that desire has come through the guidance of the Holy Spirit and love for others around me.

I also believe God has invested in me through many, directly in person and indirectly through their books, to prepare me for pursuing this passion of serving others. A couple of years after the group was kicked out from the Orthodox, I understood the need for training and therefore, I gave up my teaching job and joined a Bible College (Evangelical Theological College) in Ethiopia in January 1997. I served in the same college as instructor and Dean of Students and then I went to a graduate school (Wheaton College Graduate School in Wheaton, IL) to study how to correctly interpret the Bible in 2004. After my studies in Wheaton, I joined Loyola University Chicago School of Education and completed a graduate study in Higher Education Leadership which I believe has contributed to my preparation for curriculum designing, teaching, and leadership roles. Currently I am pursuing and Doctoral study at Midwestern Baptist Theological Seminary in Kansas City, MO to be equipped for more effective ministry.

I have learned the Word of God from my professors and the books they had me read. I have loved the Word of God. I have loved the Bible. I have loved to study it. By God's grace, I have tried to live by the Truth or practice the Truth as much as I can. By God's mercy, I am still striving to grow more in biblical lifestyle and towards Christlikeness.

I love to preach the Bible and teach the Bible. I love to counsel others based on biblical principles. I love the Truth. I strive to practice the Truth. I believe that is also why I am in ministry. I am in ministry to reach out to those who needed a savior. I am in ministry to make disciples. I am in ministry to equip disciples. I am in ministry to send disciples as disciple makers. That is why I have never stopped preaching and teaching the Word of God and providing biblical counseling to many for more than 20 years. That is why I travelled to 25 States in the US and two provinces in Canada to preach, teach, and train believers on topics such as how to interpret the Bible correctly, how to lead small groups, how to understand the identity and fulfill the responsibility of a Christian in God's Kingdom. That is why I have been serving as an associate campus pastor at the Fellowship International since 2011. And that is also why I recently planted a church (Disciples Assembly) in Overland Park, KS with a vision of passing on the legacy of practicing the truth or the fear of the Lord to the next generation by accomplishing a mission of making, equipping, and sending disciples.

That said, I fully understand and accept the fact that ministry is not a one-person endeavor. Praise the Lord for my wife, Blene Woldegiorgis, who also went to a Bible College and also to a graduate school to study counseling, and has served college students through EvaSUE (Evangelical Students Union of Ethiopia) in many capacities for decades. She is serving alongside with me in counseling and it is my hope and invitation that many in Kansas City area will benefit from her gifts, trainings, skills, and ministry experience.

It is my prayer for many to come on board and serve with us for the same vision and mission and for the same ultimate goal – to the praise of God's glory!

Thanks for reading! Aklilu Damtew
---
Click here to send a direct email to Aki.