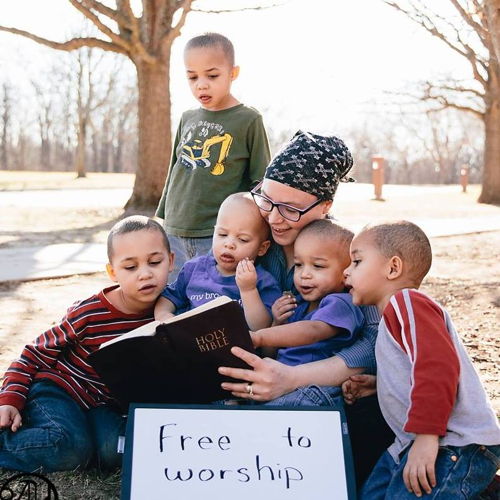 Gloria L.
from MO
Story #368
I got saved at an early age but I soon fell into a works-based religion. We moved around 10 times before 3rd grade. Everyone, including my family felt distant; I had to earn their attention. But when my family settled down, I witnessed to others, especially Muslims and cultists, profusely. I read my Bible all the time and tried to pray but felt God was far away. I served, I gave, I did everything I could to try to earn God's love. And yet on the outside, I was very proud of my sacrifice to God.

I started to witness online through chat groups. One Muslim guy in particular broke through my religious chainmail to show me love-and we ended up dating. I regret the choices I made in that relationship and the sin I ended up following. Even more than ever, I knew I couldn't earn God's love and I was a hopeless hypocrite. Since that guy was far away, I ended up dating another muslim in my country. And then God had him deported. In my brokenness, I found a christian- whom I married, but turned out to be abusive in every way. We moved halfway across the country when I got a job after being unemployed and underemployed for two years. At the new church I started attending, I realized for the first time that we not only don't earn our salvation- we don't earn God's love after we're saved either. God broke through my depression, anger, and pain. God not only loves me- He likes me. He wants to talk to me through His word not just in judgment- but in love. His love is enough. He loves to hear my voice in prayer.

Now when I serve Him, its not to earn His love- but to express the overflow of love He has given me. It's to help others see how glorious He is. To show them that He loves them too. The more I know Him, the more I feel loved. And He wants you to know Him too. He wants you to know He likes you.

To know more about Jesus Christ click the learn more button.
---
Click here to send a direct email to Gloria.