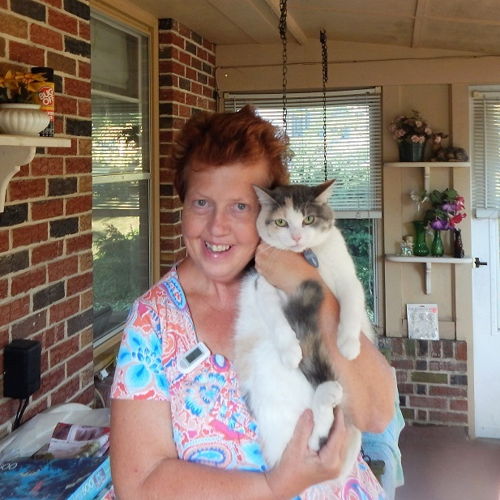 Lisa G.
from PA
Story #383

This is my story of what Jesus Christ has done for me. And what has He done? Well, I'll put it this way – if it weren't for Him (and my parents guiding me to Him), I'm fairly sure I wouldn't be here at all.
I've dealt with depression and anxiety since I was little. Back in those days, they did not have treatments and child therapists like today. And my anxiety took on a rather strange obsession – I was always terrified of the devil and hell.
I would wake up from nightmares crying that I was going to hell. Mom would get up (faithfully!) and try to calm me down. So, when I was old enough to understand, she explained the plan of salvation to me and I accepted Jesus as my Savior.
Here's where the story ends, right? Um, no. You see, by this time, my depression and anxiety worsened to the point that Mom had finally located a children's therapist. I was diagnosed with OCD – obsessive compulsive disorder. That's that thing where people always wash the hands, check the locks, and are scared of germs, isn't it? For most people that have it, yes. For me – again, no. My obsessions and compulsions took on Biblical overtones.
Satan loved to torment me (as he does many other people). He would put curse words in my head and I would think them about God. Then he twisted the verses about the unforgiveable sin (the devil does love to twist the Scriptures!) to lead me to believe I had committed it. There was no hope for Lisa – she was doomed to hell.
By my teen years, I had prayed asking Jesus to be my Savior hundreds of times. But I had to do it "just right" (no bad words in my mind, a certain order to the words, etc.) If I "did it wrong", I would bawl that I was going to hell again. Looking back, I don't know how my parents stood this. I am SO sorry for what I put them through. These days, it wouldn't happen – because now treatments are so much better.
But at that time, I ended up with a brief hospital stay and was put on a really bad medicine. This was the precursor of today's better known (and more effective) anti-depressants. It made you pretty much like a zombie. I pretty much battled taking it.
By now, I was in college and, due to prayer and the development of the early stages of better medicines, my life was starting to look up. I got my teaching degree, a teaching job, and my Masters. I had moved from my child psychiatrist to an absolutely fabulous adult psychiatrist, "Dr. Dave". I even bought my own home! Things were going so well that I decided that I didn't need the doctor or the medicine anymore because Lisa is all better now!
Mistake. My dad died of a massive heart attack and my life began to crumble again. During summer vacation, I didn't want to even get out of bed. I developed a "ritual" of telling Mom all my evil thoughts (if I missed one, I would try to tell her later). I started thinking about suicide again. Mom literally hauled me back to "Dr. Dave" (what would I have done without her?).
Dr. Dave made it very clear: I was to NEVER stop taking my medicine. Not EVER. He added an additional anti-depressant to my medicine chest and once again things started to get better. Mom and I always loved to joke around with Dr. Dave. He was especially fond of political cartoons and had a wicked sense of humor.
One day, Dr. Dave had to miss my appointment because he was ill. Later, I found out from the secretary that he was in the hospital with leukemia. A bone marrow transplant from his brother did not work – I lost my dear friend in 2005.
By now the medicines had reached the point of timed release (which is what I am taking yet today). The relief was incredible. Just one glitch: I was still doing the ritual of telling Mom my bad thoughts. Lord love her. She doesn't have to hear THAT anymore.
Mom had been having diabetic blackouts, so I moved in with her during her last four years of life. We became closer than ever. I can't tell you how many times I apologized for my previous behavior when I was younger. Her answer was always "God has a reason".
I always said "God never gives us anything we can't handle. I couldn't handle Mom dying, so Jesus will come back before she dies". Wrong again, Lisa. Here's where my spiritual journey really takes off.
The day Mom died, God spoke to my heart that she was going to pass and she was going to pass that very day. I called my cousin, a pastor, to come over to be with me. I spent Mom's last hours by her bedside. I could make out her saying "I love you" to me. I leaned over and said "Go with Jesus, Mom. I'm going to be OK". My cousin said he saw her visibly relax and smile – and she went Home to God.
Everyone at work thought Lisa would be devastated over the loss of her best friend. But something miraculous happened.
I started to feel she was with me ALL THE TIME. She knew my thoughts. She knew all the drama at work. She knew when I was feeling bad and why. When I bought my dream car (a convertible), a check arrived in the mail the next day from a life insurance company where Mom had set up a small policy in 1945. She wanted me to have it, because I lived with her and she didn't have to go into assisted living. It was the EXACT amount I paid for my car. I named my car "Jessie".
It's been three years since Mom passed and a lot has happened. I've had TWO major surgeries on my leg. Doctors performing blood tests discovered that the depression, anxiety, and OCD came from genetics on my father's side. Daddy had had some anxiety issues as well, but hadn't addressed them. I see evidence of these medical issues in both my brothers even today, but they refuse to address them. Must be a male ego thing. When I think of how many of my Dad's side of the family suffered over the generations, I have such sympathy for them – and praise that now in Heaven with God they have finally overcome their struggles.
I've become much more certain of my salvation, but the devil still likes to get his jollies out of tormenting me. A misaligned leg put me in a wheelchair for six weeks – during which Satan delighted in whispering "You'll be in that chair all your life". He placed a cancer in my beloved 13 year old calico, Peaches. But God is stronger than the devil. Today I do distance walking and ride my bike. I exercise every day. God has comforted me with the knowledge that Peaches is with Him and the rest of my family in Heaven.
Today I seldom even have the bad thoughts anymore. I am able to pray without repeating and getting things "exactly right". You might say: "Is it God? Or the medicine?" Well, Who do you think gave the doctors the knowledge to create these medicines in the first place? How did the doctors know the precisely right dosage to give? Who gave the surgeon the ability to fix my leg? God is active in all of this – but He does use physicians and medicine to accomplish His purposes.
Poor Mom. She used to say "I haven't done anything special with my life." If only she knew. Without her, I wouldn't be here (and I don't mean just giving birth to me either!) She is the one who led me to God in the first place. She is the one who taught me that salvation in Jesus is the most important thing in one's life. She was always advancing her knowledge in the medical fields and even (at age 90!) watched a video of a knee replacement with me to push me to get my leg fixed. She worked with my dad to build eight homes (including the one I'm living in now). She shingled roofs and laid floors. She had the craziest sense of humor and I still laugh when I remember some of the things we shared. She always said "Do what makes you happiest, as long as it pleases God". She was truly a woman before her time. And, in her honor, at 54 years old I still love riding roller coasters!
If I've learned anything from all of this, it is how much I truly HATE Satan. I have moved from a deep fear to a deep hatred for Satan. When people say "Why did God let this happen?" I want to yell "It isn't God. It's the devil and one day, when the time is right, God will throw him into a lake of fire." Now that is something I really look forward to!
God has performed many miracles in my life. When I had to stay in assisted living with my operated leg (the same assisted living Mom had always wanted to avoid!), I had an argument with the doctor who visited once a week. She tried to make me take narcotic pain killers. When I told her I only wanted Tylenol, she got angry. I remember laying in bed that night saying, "I don't like that dumb woman, I want my REAL doctor". I sounded like a four year old. The next day – I'm not lying – my surgeon walked in to visit. The nurses later told me he was the first surgeon to visit there in years. Coincidence? Nope. It was God. The same way with the life insurance check and the car.
Wow. I didn't know my story would get this long. Why did I write this?
1. To share my witness of what God has done for me. "Go and tell others what God has done for you".
2. To thank God for His blessings and for those people he has blessed me with: my psychiatrists, my surgeon, and most of all my wonderful parents Charles and Jessie Greybill. I'd like them all to know I'm doing a LOT better than "OK".
3. I like to think that "just maybe" there is someone else out there who is having bad thoughts of curse words. Maybe they're afraid of going to hell and that there is no hope for them. I pray that God will somehow get this story into their hands. They are NOT alone in their struggles and there IS hope. And for that reason I pray for them.
I'll end with excerpts of two of my favorite songs:
"He is, He was, He always will be. He lives, He loves, He's always with me. Even when it feels like there is no one holding me, be still my soul. Be still and know. Be still, my soul, He is."
"No power of hell, no scheme of man, shall EVER pluck me from HIS hand. Till He returns or calls me Home, here in the power of Christ I'll stand".