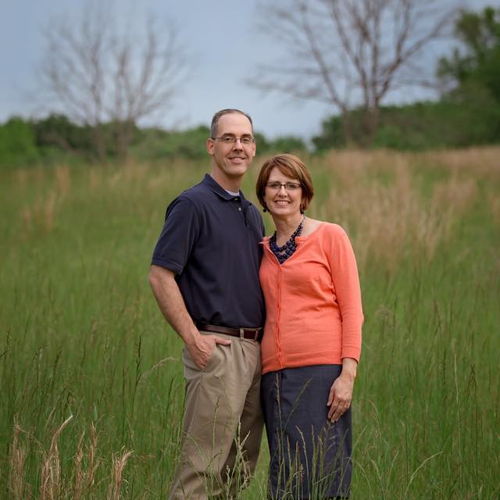 Jennifer H.
from KS
Story #414
I grew up in a family of church attenders. My parents were faithful to take me to Sunday school and church on a very regular basis where I learned a lot of Bible stories. However, we never spoke of God or the Bible in our home. It was just what we did on Sunday mornings.

As I became a teenager, I was aware of the facts of Jesus' birth, life and death. But all I had was head knowledge and no knowledge that I could have a personal relationship with the God I'd learned about in the Bible. If you'd asked me then if I was a Christian I would have answered "Yes" because at the time I thought I was a Christian by default. I didn't worship any other Gods or practice any other faith, so I assumed that meant I was a Christian. At the end of my senior year of high school my parents divorced and as I headed off to college I felt alone and confused. Seeking to feel connected to others I joined a sorority and quickly joined the party scene on campus. Deep down inside though I knew I was making some really bad choices and I knew that the sorority and the parties were not doing anything to heal the hurt or fill the void in my heart.

Thankfully God had chosen for me an amazing roommate in college (also named Jennifer!) that loved Jesus and loved reading her Bible. She invited me to go to some events on campus where I encountered people who were serious about their relationship with Christ. One of those people was my husband Brian. As I got more involved with these Christian students, I realized they had something I did not and I wanted to have the peace and joy and faith that I saw them living out. I began attending church with them and learning more about what authentic faith was really all about. After about two years of them patiently teaching and praying with and for me, I finally put all the pieces of the puzzle together and understood completely what it meant to surrender my life to Christ and seek to live the rest of my life for Him. In the 28 years since then I have come to love God and experience being loved by God like I never thought possible.

The challenges of infertility, job loss, aging parents and breast cancer as well as just the daily struggles of life have all given me the chance to learn more about God's character and to learn to trust God in all things. Time and time again He has proven Himself faithful to me. He is my Rock. My fortress. My provider. My shield. My Hiding place. My Savior. I do not walk alone. Daily I seek to live a life that brings glory to God. I do my best to be obedient in all He asks of me. I don't always get it right, but His grace always sufficient. God has given me a passion to serve with preschoolers and their families. He has burdened me to help equip parents as they seek to build a solid foundation of faith in the lives of their preschoolers so some day these little ones will grow to love and serve Jesus with all their hearts.
---
Click here to send a direct email to Jennifer.