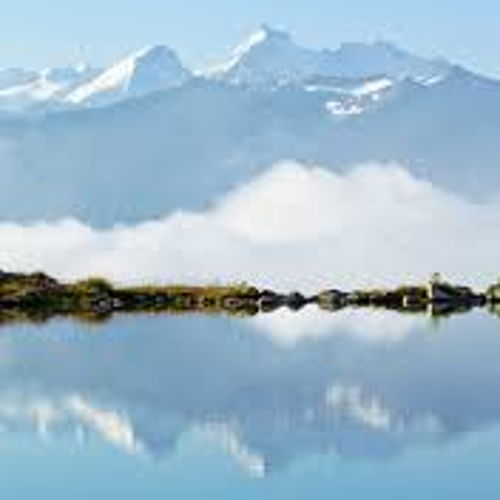 Taylor L.
from KS
Story #430
I was born in Fresno, CA but when I was about 6 months old we moved to Fairview, OK where my sister was born. Then when I was 5 we moved to Hillsboro, KS where my brother was born and that was my home for about 18 years.

For a large portion of my childhood my dad was a youth pastor, my grandparents were missionaries and nearly every one of my extended family members are Christians so I've been really blessed with incredible Godly influences on my life.

However, one thing that I realized late in my life is, that doesn't guarantee me a spot in Heaven. So I think growing up, I just kind of coasted off of my parent's faith.

I accepted Christ into my heart when I was 3, so I'm sure I barely understood what it meant. But I was very lucky to have parents who were so concerned about me spiritually and who have always encouraged me to grow in my faith while never forcing anything on me.

I grew up going to all the church camps, VBS and youth mission trips, but to be honest nothing really progressed me in my faith when I was younger simply, because I just didn't care enough. I cared more about appearances than anything else. Looking like a good Christian.

I had never known what not being saved even looked like. Literally everyone around me had it all together, and so there was a lot of pressure on me to be the same way. So when I sinned, I just kind of swept it under the rug and tried to hide it.

But when I was a junior in high school, my mom was diagnosed with breast cancer, and nothing was the same after that.

Her cancer came at a time in my life, when I wanted nothing to do with my family. I was finally experiencing a little independence and freedom and I rebelled a lot against my parents when I was in high school. I can remember just never getting along with my dad and I made my mom cry a lot. I really didn't spend a lot of time at home.

The day we, as a family, found out she had breast cancer I hopped in my car (1994 Pontiac Bonneville) and I drove away. I was trying to process everything. This was the first major negative event that had ever happened in my life. I remember parking my car somewhere, crawling into the backseat and just sobbing. I have never experienced fear like that. Fear that my mom would die. I remember seeing that same fear in my dad too, and it broke my heart to think of him losing his best friend in life.

I talked with God a lot during that time and I said a lot of terrible things to Him. I was really angry. I didn't understand how He could let something like this happen to my mom. And it was a really hard time for me. I think one of the hardest things was watching my mom shave her head because of the chemo. Mom loved her hair. Throughout those months of treatments and hospital visits, I really saw my mom deteriorate physically. She seemed so frail and small. It was painful to see.

And throughout the whole process I never looked for God's presence. I never looked for answered prayers and so I never saw any. In my mind, God was the one who did this, so why would He care about undoing it. Why would He care about healing her. There were times when I even thought I hated God.

But you know what, despite my distance from God and my irreverence in prayer, after about a year of chemo the cancer was gone and she's been cancer free for over 6 years now. But that whole process changed my life and really ended up shaping my faith in Christ and really just how I viewed God in general. In the end, He's the one who got us through and since then my relationship with my family continually gets stronger.

After high school, I went to Tabor College, also in Hillsboro, and I graduated with a Graphic Design degree. I then moved here to KC, looking for a job opportunity in that field and God lead me here to LBC, which just so happened to be needing a Communications Assistant. God really had a hand in that.

But looking back at my childhood and adolescence, my story is really just one of finally realizing God's constant presence in everything that's happened to me. Even when I couldn't see Him or refused to see Him, I see His work clearly now. And I know as I get older I'll go through many more hardships and difficult times, but I've seen His faithfulness through my mom's cancer and that makes me confident of His faithfulness in sufferings to come.