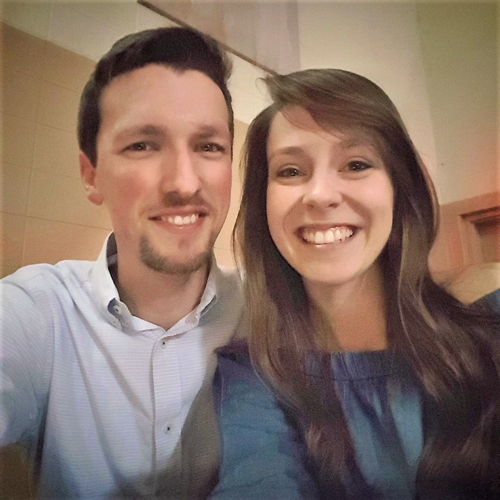 Clara B.
from KS
Story #433
"Sunday morning church attenders" – that is the category my family fell into when I was a kid. We attended a very small church of about 40-50 people most Sundays, but at home we never really talked about God or the Bible. If asked, I would have told you I was a Christian because I went to church and was a pretty good kid (at least at church). It wasn't until a friend invited me to the summer church camp she attended that I realized being a Christian was more than just going to church and trying to be a good person. Our days at camp were filled with games, crafts, swimming, and Bible studies. In the evenings, we would all congregate in the pavilion to sing and listen to a speaker give a message from the Bible. God was working on my heart and showing me who He was. One of the evenings we sang a song (Who Am I by Casting Crowns). As we sang, the lyrics spoke of how God, the creator of the universe and everything in it, loves us more than we can imagine. "Who am I that the eyes that see my sin would look on me with love…" Those words rang loud and clear in my heart. I saw myself – sinful, trying to be good enough on my own, and not truly having a relationship with God. I saw who God was – the holy, perfect Creator who, even in my sin, STILL LOVED ME. That night, I asked Jesus to be my Savior. I was nervous to go forward during that service because all my friends thought I was already a Christian, but I knew God was calling me to be His.

At some point when I was in middle school, my family quit going to church and it had a negative impact on my faith. I was struggling through being a new Christian and didn't have anyone pouring into me. During my sophomore year of high school, a few friends invited me to a youth event at their church. Although there were many ups and downs to come, this was a huge turning point. My Mom and I started attending services and decided to make this church our church home. I was attending youth group, being poured into weekly by a loving youth staff, and really beginning to dig deep into what the Bible said for the first time. During my junior year, God began to show me that I needed to be obedient and be baptized as a believer; I was saved as a child, but was never baptized after I accepted Christ. On my 17th birthday, I was baptized at my church.

I wish I could tell you things were perfect after this, but that's not the case. Sin has a way of creeping in when you least expect it. Ephesians 6:13 says, "Therefore take up the whole armor of God, that you may be able to withstand in the evil day, and having done all, to stand firm." The passage continues, saying that the sword is the Bible. Can you imagine a warrior going into battle without their weapon? Each day is filled with its own troubles and battles, and I was leaving my sword behind each morning (by not faithfully reading God's word) as I went out to face the day ahead. I ended up finding myself in a sinful relationship with my boyfriend that I had been dating at that time and I felt stuck in a rut. Even though I knew God was merciful and forgiving, I had it in my mind that He wasn't big enough to cleanse me and pull me up from the pit I had fallen into… or that maybe He wouldn't want to. Well, God was most-definitely big enough and loved me too much to leave me where I was. His love for us far outweighs anything we've done. It wasn't easy, but I ended that sinful relationship and I felt like a wall that was between me and God finally came down. I felt joy, peace, and love from my Savior. I was in college when this took place.

It just so happens, that when you are obedient to follow God and commit yourself to Him, He brings unexpected blessings into your life. I ended up meeting, dating, and becoming engaged to a man who felt called to ministry. We married in June of 2015 and later moved to KC for him to pursue a master's degree in church ministry. We are growing closer together and closer to God. Both my husband and I brought baggage from our pasts into the relationship, but by God's grace and strength we are learning what it means to love in a self-less way despite someone's failures. We are learning the importance of placing God first in our relationship and placing priority on taking up "the whole armor of God" every morning. We're also seeing how crucial it is to have accountability with other believers and encouragement through life's struggles. It's been amazing to see God prove Himself faithful, loving, and full of grace time after time. I still struggle and fight against sin like everyone else…BUT God's mercies are new every morning and His love is unfailing. Thank you for taking time to read my story; I pray it was encouraging to you!