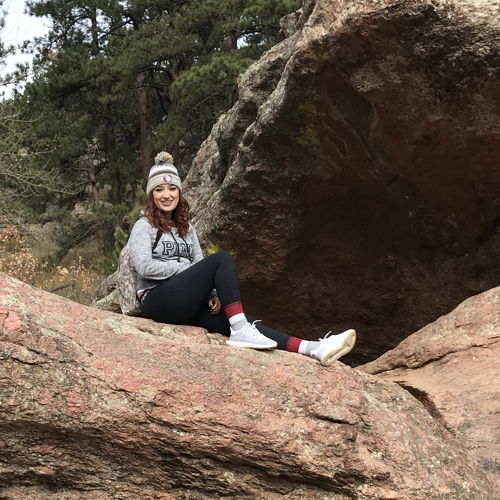 Ana T.
from CO
Story #456
My name is Ana Karen Trevizo I was born and raised in Chihuahua Mexico, I lived there for the first 10 years of my life. I grew up in a very unstable home, where my mom came from a Christian home and my dad from a catholic home. Growing up in this environment was very hard, my dad would not approve of my mom's faith, I can't really recall a Sunday going to church. I lived all my childhood unhappy and confused due to the situation at home and due to being bullied constantly at school.

My life didn't seem to have a purpose I wanted God to take me away. My parents ended up getting divorced, and my mom decided to move away with some relatives that lived in Colorado. I thought it was going to be great, new friends, new school, new start. It did not go as planned, I was still being bullied and felt alone. I was attending church every Sunday, and I thought that made me a Christian, but I was so wrong.

At the age of twelve I was introduced to alcohol and by thirteen I was addicted. I knew it was wrong but I always felt like it was my way of letting everything I was going through out. I missed having my dad around and I started to seek love in the wrong places. I needed to fill that emptiness in my life, I started to jump from relationship to relationship but it was not working. I blamed God for everything and though I was still attending church I was pretending to be someone I wasn't. There was a point in my life where I felt like life was not worth it and I lived in fear that everyone was going to walk out on me like my dad did, and I got deeper into my addiction to alcohol. I hated going to church and hearing everyone telling me that God had a purpose for my life, I wanted to see results. But God was not responding my prayers, where was He when I needed Him, why didn't He fix my parents situation? I was angry and wanted nothing to do with God or ministry. The first time God called me to be a Youth Pastor I rejected the idea of it. Ministry was not in my plans, my plans were better I was going to join the U.S. Air Force. It seemed like the more I ran away from my calling the more I felt the need to be there. A certain event made me realize how much time I was wasting. I lost a friend due to an overdose, and I felt so guilty if I would have been a better person I could have done something to help but I didn't and now my chance was gone. This made me realize the need for Christ in my life and in my community. I cried out to God asked for forgiveness, and decided to stop running. I said yes to the call God had placed in my life no more running, no more losing friends and feeling guilty for not sharing the love of Christ.

God turned my life around He saved me from where I was, no more addictions although I can't say about a broken heart, He is still restoring my life. My relationship with my dad is not the best but the Lord has been faithful and I was able to forgive him and share my faith with him. I am currently attending Bible College perusing the call God has for me, I am still a work in progress. God has proven me wrong in every area and His blessing over my family is unfathomable. Saying yes to Him has been the best decision I have ever made in my life and there's no place I'd rather be, SERVING. I pray that my story will be able to inspire somebody, and know that there is a God that saves and cares. Just like He saved me He can save you and begin to work out the plan He has for you. "For I know the plans I have for you," declares the LORD, "plans to prosper you and not to harm you, plans to give you hope and a future. (Jeremiah 29:11)

---
Click here to send a direct email to Ana.