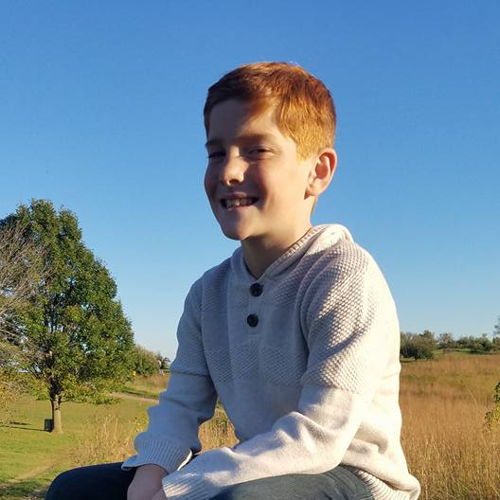 Luke N.
from KS
Story #462
Hi! I'm Luke Neland! I'm 8 years old. Today I am going to tell you about what God has done for me. Ever since I can remember my mom and dad had taught me about Jesus. We pray together every day and go to church a lot. I also went to a Christian school called Maranatha. One night at home we were watching a show where a man was telling people about Jesus and inviting them to be a part of the Christian family. He said that if you wanted to believe in Jesus you needed to pray to Him and let Him know. I talked with my family about believing in Him and my mom and dad explained everything to me.

I learned that I had done some bad things in my life that I needed to be forgiven for. So I asked God for forgiveness and let Him know that I wanted Him to be my Lord and Savior. My family all got around me and prayed with me. The Holy Spirit filled my heart with love and it was amazing to me.

Now I am really trying to be super good and change my ways so that people can see Jesus in me. I try to help out as many people as I can. I love to pray for people that are having troubles or need help in any way.

What I really want to do with my life now is go around the world and tell everyone about Jesus. God has done amazing things for us and He can do it for you too! If you ever want to know more about Jesus you can come and talk to me… Luke! You can invite Jesus into your heart no matter where you are at or how old you are! I hope you all will remember all of the things I have been sharing with you about the Lord!

One of my favorite bible verses is actually found in the book of Luke. It is in chapter 4 verse 18. It says, "The Spirit of the Lord is on me to proclaim good news to the poor. He has sent me to proclaim freedom for the prisoners and recovery of sight for the blind, to set the oppressed free." I love this verse because it talks about how Jesus can save me and also everyone else no matter how things are in your life. You can always come to Him with your heart!

---
Click here to send a direct email to Luke.
You can learn more about Luke
here
.
The above link will take you to a site not related to 1MillionStories.org. We do not endorse opinions expressed on external websites due to the inability to properly review the content of every linked site.