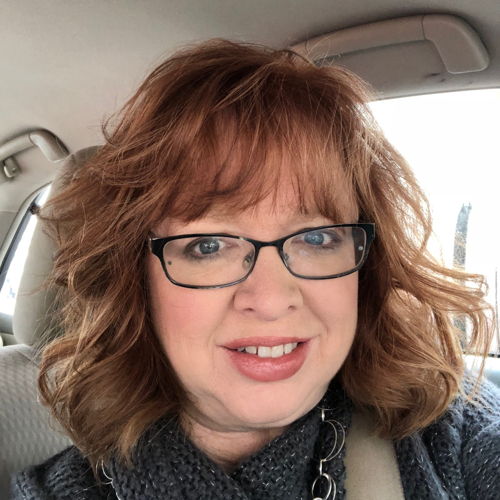 Terisa G.
from MO
Story #475
Hi, my name is Terisa. The date is December 20th and I can't let another Christmas season go by like so many before and not share with others the Gift that God is offering. So my gift this season is to share what God did for me and for you if you wish to accept it.

My story starts when I was a child. I was a typical girl growing up in a small town. I lived in a home that was filled with love for us, but unfortunately also filled with lots of fighting and arguing. My dad had many problems and sadly it affected our whole family. I remember while I was 11-12, it was one of the more chaotic times. I felt very alone, and did not feel like I could really trust anyone. You see, I did my best to hide the chaos of my family from my friends. I was concerned that they would not want to be friends with me if they really knew what my family life was really like.

Thankfully, I went to a weekly Bible Study at my Pastor's house with other kids my age and he told us about our Heavenly Father and that God was offering us the gift of salvation. Hearing that someone way bigger than me cared about what I was going thru and He died just for me because it was necessary. A debt had to be paid for my sin, and Jesus willingly died on the cross, so I could have eternal life in Heaven. I remember feeling a huge relief! I remember it so well, I still remember the fabric of the chair I was sitting in. (Funny the things that stick with you…) Asking for forgiveness of my sins at 12 and for the Lord to come into my life to take over for me was a pretty easy step because I didn't see how things could get much worse. I was desperate things to change, for a Savior to rescue me.

That decision changed everything for me, but not quite the way I had anticipated. My family life did not get much better, in fact things got worse and by the time I was a senior in High School, my parents got divorced. I have to say that my mom tried everything she could think of, to make the marriage work, but honestly my dad had too many demons to fight. He was addicted to prescription medication, and alcohol. Those two things make for a very volatile environment. My circumstances did not really change, but how I felt was what really changed. I felt joy for the first time in a long time! The best part was… I never felt alone after accepting Jesus into my Heart. I had the Holy Spirit living in me and my Heavenly Father was constantly there for me, and in front of me, ready for battle.

You see God does not promise us a happy life. He promises an eternal life with Him. That life starts the moment you accept His gift of salvation and carries on in Heaven when you leave this life. My life with Christ is my own testimony. I'm 54 now and am very blessed! I have had many happy times, some major issues in my own marriage, some times of loss, some times of sickness/ cancer, but honestly, it seems like a typical life. Not unlike what others have to face. The amazing part is I have shared every step with the Lord by my side and I have never felt lost or alone. He has provided guidance, He worked a miracle in our marriage over 19 years ago, He healed me from cancer and the affects later, He is my Comforter thru the loss of loved ones. I know God is with every step of my amazing, crazy at times, but still ordinary life! And the best is yet to come. Can you imagine how good Heaven will be with our Heavenly Father!!! As a song says…I can only imagine…

God has taught me to focus on Him and in the midst of everything and He will provide guidance. Matthew 6:33 says "Seek ye first the kingdom of God and His righteousness; and all these things will be added unto you. There is so much that God has for you and He wants to meet with you and comfort you in the pages of His Word. I get fired up about it just thinking about all that He is!

Thanks for letting me share my testimony and now I want to leave you with His words. Some things to consider…I'm hoping you will accept the gift that is waiting.

Everyone is a sinner…For all have sinned and fall short of the glory of God,—Romans 3:23

Our Penalty for Sin…For the wages of sin is death,—Romans 6:23

Death is eternal separation from God…but the free gift of God is eternal life in Christ Jesus our Lord, —Romans 6:23

How do we have eternal life? "For God so loved the world, that he gave his only Son, that whoever believes in him should not perish but have eternal life. For God did not send his Son into the world to condemn the world, but in order that the world might be saved through him.—John 3:16-17

Jesus said to him, "I am the way, and the truth, and the life. No one comes to the Father except through me.—John 14:6

How do I become saved??? First…Admit you are a sinner.

If you confess with your mouth that Jesus is Lord and believe in your heart that God raised him from the dead, you will be saved. For with the heart one believes and is justified, and with the mouth one confesses and is saved. For the Scripture says, "Everyone who believes in him will not be put to shame."

For there is no distinction between Jew and Greek; for the same Lord is Lord of all, bestowing his riches on all who call on him. For "everyone who calls on the name of the Lord will be saved."—Romans 10:9-13

"If we confess our sins, he is faithful and just to forgive us our sins and to cleanse us from all unrighteousness." —1 John 1:9

Do I have to do anything else to earn my way to heaven?
"For by grace you have been saved through faith. And this is not your own doing; it is the gift of God, not a result of works, so that no one may boast." —Ephesians 2:8-9

Meaning for my life…"Therefore, if anyone is in Christ, he is a new creation. The old has passed away; behold, the new has come." —2 Corinthians 5:17
---
Click here to send a direct email to Terisa .