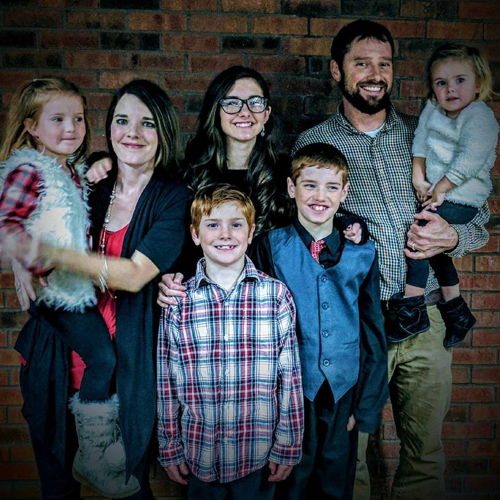 Jason N.
from KS
Story #504
Thanks for stopping by my page. Whether you are a friend, casual or close, or someone I have just met somewhere along along the way, Blessings! I hope that the trials and struggles of my life and the love and joy that I have found through a loving relationship with Christ can help encourage and inspire you in the same way that other people's' story has encouraged me!

First and foremost, the telling of my Jesus story has to start with a verse from the bible in the book of Romans, seventh chapter. Paul dutifully describes the story of his struggle between his sinful and spiritual natures. He relates it to the waging of war, so strongly desiring to do good, to be the man that he knew that he was supposed to be, but failing miserably in his own strength time and time again. As Paul finally gets to the climax of the moment he cries out… "What a wretched man I am! Who will rescue me from this body that is subject to death? Maybe you have felt the same way? I know I had. Well, this is me… this is my life… a rescue story…

I grew up in a broken home, as close to 50% of us unfortunately have. My parents divorced when I was two and my mom was remarried soon after. My relations between all three of my parents were pretty rocky as the years went by, mainly due to the choices that I was making and the animosity towards them that I had built up inside. A spirit of rebellion began to grow within me and at a young age I began to find joy and escape in lashing out and enjoying the many pastimes that the world had to offer. My parents had a tough time corralling me and by the time I was thirteen I had already visited the juvenile detention facility three times. I had also attempted to live with my Dad a few times along the way. This too ended in heartache, both times ended in me receiving the proverbial showing to the door.

As I grew, my means of escape began a steady transformation. I started out in books, disappearing into fantasy worlds that would help me forget the real one I was struggling in. Then music began to play a part, my headphones transporting me to a place where I could no longer feel pain. I became obsessed with gangster rappers such as Eazy-E and NWA and began developing a hardened persona to match what I was putting into my mind. Sports, especially baseball, was my way to shine, but yet also another escape. My talents caused me to excel on the field but I rarely wanted to follow the instructions of my coaches and usually ended up paying the price for my rebellious attitude. My teenage years also brought the joys of the opposite sex. I was now finding my comfort and escape in the pursuit of "love", which more often times then not usually meant the pursuit of lust. All of these relations usually ended up the same tragic way my life was going… straight to hell. Soon, friends introduced me to alcohol and then drugs. I now had a way to try and cover up my pain but the problem was it was only momentary. It seemed like I would never find the "true love" that I was looking for.

My parents finally had had enough of my shenanigans and at sixteen they gave me the word that I would be headed to a military academy. This was not up my alley so I contacted a friend who I had been visiting in Kansas City and she offered to have me move in with her and her family. Unfortunately this arrangement didn't last long as I was still the same selfish, rebellious kid I had always been, adding in drinking and drugs into the equation had turned me into quite a beast. So as I was being shown the door again, I had made friends with a guy at school who offered for me to stay at his home for a few weeks until I could figure something else out. Long story short, I ended up staying with this amazing family for the next two years. They battled through my frustrating moments with me with love and firmness and because of their lovingkindness I was blessed and able to make it through high school alive and with a diploma.

My baseball skills opened up the door to a scholarship opportunity at Avila University. I was excited to be able to continue on in the game I enjoyed so much. Though my expectations were high going in that things could turn around for me, my continued rough life choices turned the next four years at Avila into a blur of intoxicated madness. I soaked up as much of the world as I could, again getting lost in my pursuits of everything that I could to please my flesh, still though, searching for the filling of that love void.

Towards the end of my fourth year of college I started to feel a pull away from that world. I decided at the beginning of the year that after travelling the country backpacking for the summer I did not want to go back to apartment life. The back of my jeep was quite comfortable so I decided to shack up there. You see, everything that had always felt so amazing in life had really begun to feel quite awful. The friendships that I had seemed so shallow and futile. The hallucinogenic drugs that I was using were causing me to see a world full of darkness and evil instead of rainbows and flying animals. The victories on and off of the baseball field were never enough. Every ounce of the worlds love that I tried to fill myself with left me feeling lost and empty. I had come to my end but I did not know how to change.

Out of the blue came an invite to head to Florida with my girlfriend and her youth group. Hesitancy filled my thoughts as I processed spending an entire week with "church kids". We would be going to the same beaches in Panama City where during spring training for baseball I had stumbled through so many drunken and crazy moments. This would definitely be awkward and interesting but I was willing to get past all of that for a week on the beach with my girl. As the week progressed I started to notice something different about the people who were around me. They seemed to have a different relationship with each other than what I was used to. I began to see a love between the kids and the adults on this trip that I had never really found anywhere else. These church folks seemed to love each other, and truly love each other, not for the benefit of themselves but for the simple joy of loving and being loved.

I spent the week learning about "salvation" and the incredible things that Jesus had done during his time on earth. I heard the message of how if you would leave your life of sin and believe in Him, that His sacrifice on the cross was truly a gift for you if you were willing to receive it. The truth and the light of this message began to pierce through the darkness in my heart. I was even inspired one night to stand up to be prayed for. This was a huge step for me in and of itself. I had seen others go forward to "give their lives to Christ" but I wasn't really ready for that yet. I didn't feel like I was "good enough" to be saved. When several men came and laid hands on my to pray for me something truly began to stir inside my heart and mind.

Now the whole time I was there I had wanted to swim with dolphins, This was a dream I had had since I was a child. I asked around camp and they told me that the only place to do that was 40 or so miles down the beach and you had to pay quite a bit of money. I decide that this was something that wasn't going to happen on this trip.

One day my girl and I decided to go float on the waves so we bought two inflatable rafts from a local gas station and set out onto the ocean. After awhile we were pretty far out and she decided it was time for us to go back. She turned around and I let her know that I was going to stay out and would meet her back on the beach.

During this time my mind became quiet and began to reflect on the past week and the messages that I had been hearing. My heart became soft and I began to talk with God. I poured out years of confession, of all of the funk that I had filled my mind, heart and life with. He had finally drawn me to a place of surrender, to a moment where I could feel His love wrapping around me as I processed through receiving His Word as truth, and Jesus as my Lord and Savior! I was ready to give my life to follow and serve Him, to confirm the truth of Romans 10:9-10,13 that proclaims that "If you confess with your mouth Jesus as Lord, and believe in your heart that God raised Him from the dead then you will be saved; for with the heart a person believes, resulting in righteousness, and with the mouth he confesses, resulting in salvation… "for whoever calls on the name of the Lord will be saved!"

I surrendered my life to Christ that day, in the middle of the ocean with my cheap raft slowly deflating and the sun cooking down on my back. Psalm 40 verses 1-3 best describes the moment:

I waited patiently for the Lord;
He turned to me and heard my cry.
He lifted me out of the slimy pit,
Out of the mud and mire;
He set my feet on a rock
And gave me a firm place to stand.
He put a new song in my mouth,
A hymn of praise to our God.
Many will see and fear the Lord
And put their trust in him.

As I finished up my prayers, I heard a blowing and swishing sound. I looked up and noticed the water moving and shimmering. Suddenly a fin popped out of the water, draped in seaweed. Tears began streaking down my face as I began to say thank you over and over to God. My heavenly Father had known exactly what I needed at that moment and blessed me with a precious gift of being right next to the dolphins that I had so wanted to see. One school came by and then another. I could hardly contain my joy. For the first time in my life I felt overwhelmingly and truly loved. This, His, was the true love I had been searching for. He called me... I answered… I was now His! Rescued! Saved! Redeemed! Loved!!!

I came back and shared with our youth pastor what had happened. He became overjoyed and shed some tears with me. He spoke of baptism and what it meant. I decided this was a solid next step and was baptized in the ocean the following day.

From that point my life has been dedicated to serving Him in whatever capacity that He has allowed me to be in, as a husband, father, son, friend, neighbor, teacher, coach, pastor and missionary. He gave me the strength and courage to leave my life of daily sin and selfishness and to run fully into His arms, thanks to Him, the support of my loving wife and kids, family and church, never turning back to my old ways. He has allowed me to see His amazing blessings in so many situations time and time again as I daily choose to pick up His cross daily to follow Him. I have spent the past 20 years in Heaven University's discipleship training program. I will be picking up my diploma upon exit of this earth!

But hear me out, I do not want you to be fooled into thinking that life is going to be a cake walk after you decide to surrender your life to serve Him. There is no promise that you will face no more struggles or trials in your life here on earth. In fact, it has been quite the opposite of that. You see, for the past twenty years He has been working out my salvation, day by day, refining me, purifying me of all of the funk that I had chosen to carry, and the decisions for my flesh that I still daily battle with.

You see if you step out onto the battlefield that is our world, you will find that your enemy is not willing to easily be defeated. He will come at you with anything and everything to get you off track and to get you to believe that the decision that you made to follow Christ is worthless and a lie. He will use every tool he has, emotions, circumstances, family members, finances, death, he will use anything to try to distract and destroy you. You will be given the choice daily to hold firm and fast to the decision that you made to follow Him, or to turn back to the life that you once lived. The only way that you will be able to stand firm is to stand daily in Jesus, clothed with His armor as described in Ephesians chapter 6 verses 10 through 18:

Finally, be strong in the Lord and in his mighty power. Put on the full armor of God, so that you can take your stand against the devil's schemes. For our struggle is not against flesh and blood, but against the rulers, against the authorities, against the powers of this dark world and against the spiritual forces of evil in the heavenly realms. Therefore put on the full armor of God, so that when the day of evil comes, you may be able to stand your ground, and after you have done everything, to stand. Stand firm then, with the belt of truth buckled around your waist, with the breastplate of righteousness in place, and with your feet fitted with the readiness that comes from the gospel of peace. In addition to all this, take up the shield of faith, with which you can extinguish all the flaming arrows of the evil one. Take the helmet of salvation and the sword of the Spirit, which is the word of God. And pray in the Spirit on all occasions with all kinds of prayers and requests. With this in mind, be alert and always keep on praying for all the Lord's people.

The Lord has truly blessed my life these past years. It hasn't been without struggle or trial, but the difference is now my struggles aren't in vain, and the trials bring lessons and joy instead of driving me back to the world. I have the hope of heaven waiting on the other side of this world and the prayer that I can be a good and faithful servant and steward of my time on this earth. I have a daily hope of living to bring glory to my heavenly father as I grow closer and closer to Him each day. I have a daily hope of leading my family and others in that same way, establishing a loving relationship with their Abba father and passing His love on. I have a daily hope that folks like you will hear the amazing story of Jesus and will choose to leave their lives of sin and selfishness and will choose to surrender to His love and follow Him! Jesus said it best in John 14:6:

I am the way, the truth and the life. No one comes to the Father but through me!

If you are ready to surrender, then today is your day! Don't linger another moment. Go to your knees and cry out to Him! Lift your arms in surrender. Confess and turn from whatever sin or struggle is keeping you from Him and let Jesus know you want Him to be Lord and Savior of your life. Rejoice! Today is the day of your salvation!

If you have any questions or thoughts please feel free to email me. Hopefully, prayerfully today was your day! Let someone know! Shout it from the rooftops, Jesus is Lord!!!
Click the play button below to listen to Jason's full story:


---
Click here to send a direct email to Jason.
You can learn more about Jason
here
.
The above link will take you to a site not related to 1MillionStories.org. We do not endorse opinions expressed on external websites due to the inability to properly review the content of every linked site.