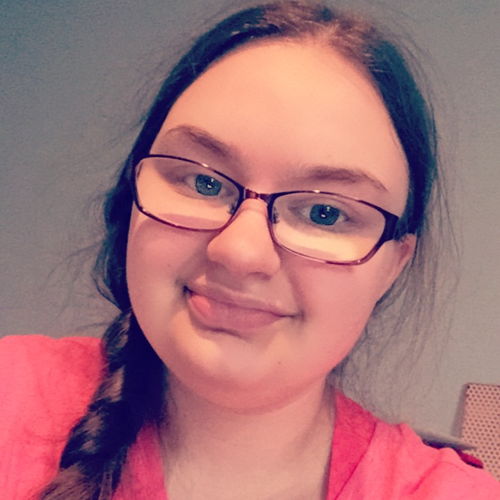 Nicole H.
from KS
Story #518
I've gone to church since the day I was born. I grew up hearing stories of Noah, Moses, and David, some of the great leaders of the bible. When I was seven at a Good Friday service, something clicked, and those stories seemed more real than before. I wanted to be able to have my own story and an everlasting relationship with God. Accepting Christ was simple to my seven-year-old self and following Jesus was easy as a kid.

That little girl grew up to be a preteen in public school. At eleven years old I was bullied terribly by my only two 'friends'. I started Middle School with no friends which was hard, and it was made harder because I am an introvert. Slowly things got better. At church I made some awesome friends that I knew would stick by me. While everything was getting better at school, home life got a little more complicated.

The start of High School came and as nervous as I was it wasn't that bad. While I was surviving high school, there were stresses and problems in other areas of life. My intuitive self-started figuring and putting together things that were going on in life. I gained some knowledge that put a weight of worry and doubt on my mind. The things I learned in life made my faith warier and staying close to God was no longer simple.

Camp Revolution 2016 rolled around and became a game changer for my faith. My church camp was able to help me see God clearly again. God truly became my rock and supporter along with protector. I rededicated my life to Christ with this new deeper faith. Knowing God has helped me a lot in the past two years. Knowing that He is always there and will see me through hard times in life gives me hope.

I live my life day to day trying to walk close to God. No day is one hundred percent perfect, but it isn't one hundred percent bad either. I'm always human but God is always God and with that truth I believe that I can do nearly anything. Yes, I may have my doubts and worries, but I wouldn't be me without them. God is always there to reassure me when I have my doubts or when I begin to worry. Philippians 4:13 "I can do all things through Christ who strengthens me." I am dependent on Christ and that's what he wants.
---
Click here to send a direct email to Nicole .