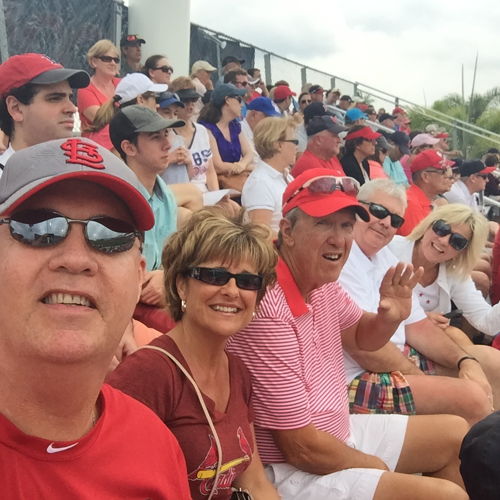 Jeff M.
from MO
Story #525
Hello, my name if Jeff Malone and I'm 55 years old. If you are reading this testimony my prayer is it gives you great hope that God can restore a man that was broken, a marriage that was over and relationships that were severally damaged. I want to tell you what my life was like before I had a RELATIONSHIP with Christ and what my life is like now with a RELATIONSHIP with Christ.

I grew up in a loving home and believed in God, but only had head knowledge and very little heart knowledge or relationship with the Father. I played tons of sports as a kid (baseball, basketball and football), so my life was all about sports. I was lucky enough to get a football scholarship to play at Southwest Missouri State which is now Missouri State University. My life at this point was again all about playing football, dating Rhonda my high school sweetheart and having a good time in college. ALL about me right. I graduated college and married my high school sweetheart Rhonda. We started our life as a married couple and had two beautiful girls Maggie and Mallory. We were both working our tails off and as our family grew, so did all the pressures of having a family and doing life. Over time I started to turn to Alcohol and it was a slow fade and I thought I was providing for my family, putting food on the table, clothes on their backs and a roof over their heads. Doing great right? As time passed my consumption of Alcohol became my outlet to deal with all the pressures of life but actually my world was coming down around me, but I didn't realize it because my life was really ALL about me.

On November 7, 2011, I'm 48 years old at this time, I woke up after a night of being so drunk I don't remember what happened the night before, but it must not have been good, because my wife and kids where gone and I knew I was in deep trouble. My drinking had finally driven my wife and kids to the point they where willing to leave me. I picked up the phone and called my Uncle Bill in Florida and told him I'm getting ready to lose everything. He said Jeff I've known you all your life, what is your relationship with God like? I said I believe in God and he said that isn't what I asked you, what is your relationship like. I thought for a minute and said I guess I don't have one. Uncle Bill encouraged me to get on my knees and ask Jesus to take my burdens and ask him to take control of my life and then go to and find the closest AA meeting and don't wait, do it now. So right there in my car with tons of tears running down my face I told God I couldn't do this anymore and that I needed his help and for Jesus to come into my life. Right then and there I felt like to world was lifted off my shoulders. I called and found a 6:30 AA meeting by my house and went. Most humbling experience of my life but best decision I've ever made.

So fast forward to now, April 24, 2018. You can see based on above without Jesus in the center of my life, my life had become unmanageable and my way wasn't working for sure. Well today with Jesus as the Center of my life, my marriage is totally restored and better than ever. My relationship with my girls, son-in-laws and two grandchildren is amazing (third on the way). I've been sober since November 7, 2011 and I lead an Addiction Recovery group called Free Indeed, I'm a way better husband, father, grandfather, friend and co-worker. This is nothing I've done but make that one critical decision that we all have to make and that was to start a LOVE RELATIONSHIP with Jesus Christ.

Finally, the picture you see has 5 people in it. I'm the first person in the picture starting from the left, the second person is my amazing wife Rhonda, the third person is my Uncle Bill and the fourth and fifth are Dennis and Lorenda Lewis. Each one of these people has had a great deal to do with my life and leading me to this amazing journey of being a believer in Jesus Christ. Over the past 6 years God has also placed several men and women that teach me, encourage me, hold me accountable and do Life with us. God doesn't want us to do this life by ourselves or try to figure it out on our own. Don't let the enemy win. If you are struggling reach out to someone you know that has a relationship with Jesus and tell them what is going on in your life and then get plugged into the real source of power that will restore your heart, mind and soul and give you hope. My life has changed only by his mercy and grace of God and he can do the same for you. I don't claim to know it all but God gave us this gift called the Bible (B) basic, (I) instructions, (B) before, (L) leaving, (E) earth and every single time I've followed these instructions it has worked, not once in a while but EVER single time.

I'm praying for you, love you and most importantly there is a Living God that loves you so much that he sent his only son to die so YOU can live. Romans 3:23, "For ALL have sinned and fall short of the glory of God."

We are all in need of a Savior and his name is Jesus Christ. - Jeff

---
Click here to send a direct email to Jeff.