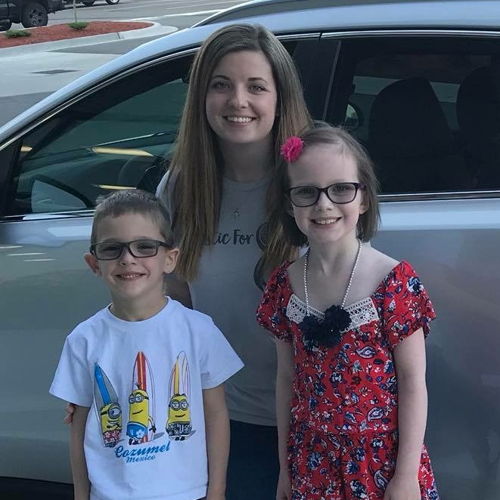 Macy P.
from MO
Story #535
My life before God? Well to be honest, that wasn't that long ago. I'm talking maybe within the last 2 years. I've always gone to church on and off my whole life but I was never consistent. I know Gods always been there for me but I chose not to respond. Not to seek. I'd pray but not PRAY. I wasn't putting Jesus first. I struggled with believeing I'm worthy. To be honest, most days I still do. But I know now, that even after a day of negative thought, after negative thought, that when I pray, or just take a step back, he'd speak to me. Remind me he's there. He's present. He knows me and cares about me and loves me endlessly. That he's got this. He's got me. No matter what that is. How do I know this? My children. They are living proof Jesus is alive and present and caring and giving and forgiving and should be the center of our lives. He blesses all who believe in Him. He blessed me with two beautiful children who have had to fight for their lives. More than any child should ever have too but keeping my faith through it all, trusting Jesus that he would make sure they pull through, was all I had. It was all I needed but I didn't know it at the time. It took my daughter battling cancer to really get me to open my eyes and heart to him. I'm not proud of it but it's My story. And I am still opening that door. Pushing the door stopper farther and farther a little each day so it will remain open for Him and only Him. Some days are easier than others but I know he loves me and cares about me. He would bless me with what I have. He wouldn't of given his life for me. And to me, I am no one. But to my kids, I am their world. Just as they are mine. And just as we are all His. God continues to work and show his mercy for me more ways than I can keep up with. I strive to continue to keep my eyes on Him and follow his ways. To be more like Him. Every day is a new paragraph or sometimes page even in the story of my life and my journey to Him. I'm learning to accept my faults and my own self because Jesus does. He will never fail me.

"If we died with him, we will also live with him; if we endure, we will also reign with him. If we disown him, he will also disown us; if we are faithless, he remains faithful, for he cannot disown himself." -Timothy 2:11-113
---
Click here to send a direct email to Macy.
You can learn more about Macy
here
.
The above link will take you to a site not related to 1MillionStories.org. We do not endorse opinions expressed on external websites due to the inability to properly review the content of every linked site.