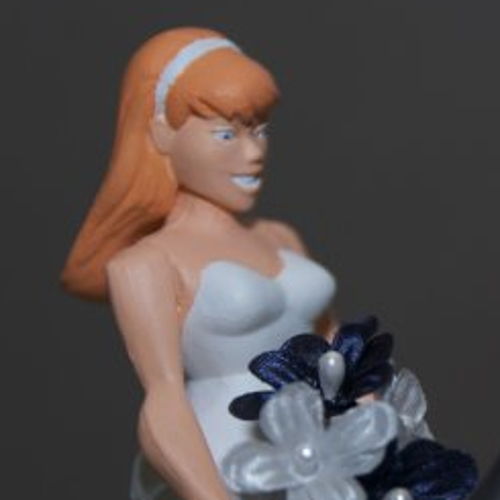 Sarah J.
from MO
Story #541
More than a Story

I grew up in a non-practicing Catholic family. I even went to a Catholic school because it was better academically than the public one. To me Jesus was just a story; no more real than Cinderella or Babe, the blue ox. I did not think about God much and had a relatively happy childhood. Until one day. . .

When I was in 7th grade my uncle murdered his wife. Their kids, my best friends, moved to Iowa. This was a small town, and I felt like people saw my uncle when they saw me. I became depressed and angry. I was mad at God, even though I didn't believe in Him.

In high school I met a girl named Jay. She was a Christian. She was always kind, and her friendliness and positive attitude made her stand out. She would carry her Bible with her everywhere, and I used to make fun of her for it. One day, Jay invited me to church. Although I did not like her church, my heart began to soften.

My senior year a guy I liked invited me to go to church with him. I went, and the people were so friendly that I continued to go even though he didn't come again. I became a part of the youth group and heard the good news about Jesus. My parents did not like that I went to church and would occasionally ground me from going. That summer there was a church camp in Colorado, NYR. I begged my parents to let me go, but they said, "no." One day I heard the song, "It's My Life," on the radio. It motivated me to ask one more time. This time they said that I could go.

During the preaching on night at NYR I heard the gospel preached. I do not remember what the sermon was about, but I was overwhelmed with the realization that God is real and loves me. I came to the front and gave my life to Christ. When we got back to our home church that Sunday, I was baptized. This was the Sunday before I went to college.

I became a part of the Campus ministry, and my faith grew. I learned a lot about the Bible. By the end of my Freshman year, I felt like I was supposed to go to Bible college. When I talked to my parents they were very much against it. To honor my parents, I agreed that I would take my engineering classes in the summer and the next semester, do an engineering Co-Op, and the following fall I would go to Bible college. This is what I did, and my parents stopped helping me financially at that point. They were very angry and even threatened to disown me.

I enjoyed my classes in Bible college, but it wasn't for me. After one semester, I went back to engineering. The following summer I went on my first mission trip to Russia. I fell in love with the people, and I began to feel the call to be a missionary. While finishing up my engineering degree, I was able to go to Russia again, and after I graduated I went to Malawi (South Eastern Africa). All these trips confirmed that God was calling me to be a missionary. The more I prayed about it the more I got the answer of wait, and I did not know the destination.

I started working as an engineer. I got married to my wonderful husband, who also felt the call to the mission field. We had two children. God has been using this time to prepare us through tough jobs and wonderful churches. We now know that God is calling us to South East Asia. We are preparing to go and are excited about how God continues to grow our faith and work through us. Our story is not over, but it began with realizing that Jesus is so much more than a story.