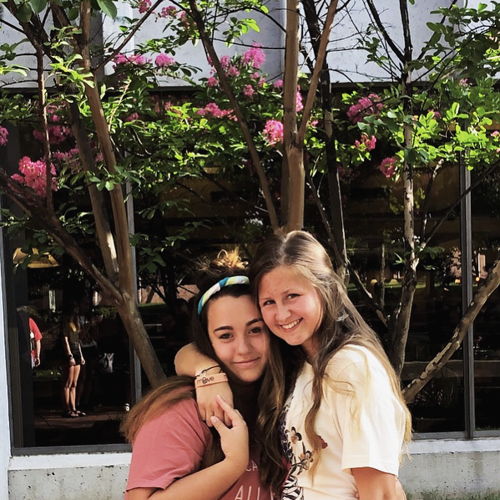 Taylor G.
from KS
Story #557
As a newborn I didn't know a thing in the world, but my father however did. He didn't care to stick around so by the time I was 2 months old he decided to leave. By the time I was five, he had been arrested and sentenced life in prison. Not long after that my mom was in a relationship which she married into, I was still five at the time. The only thing being, my mom didn't know that I was holding something in that whole time. He had been sexually abusing me for about 2 years. I was seven and a half by the time I told my mom about what he had been doing for years now. It's crazy to think that at the age of five, the thought running through my mind of "I don't want to say anything and him try to harm me or him hurt someone else". Even just looking at my mom and seeing how happy she was. I wasn't going to ruin that for her. But when it did come out, the memories or thought of him didn't leave. The memories and the burdens were left, and for many years it tore me up on the inside without me even knowing it.

There's been rough patches throughout my family over the years. Later down the road in October of my freshman year of high school I became very depressed, no longer understanding my purpose for being here. For months I struggled with self harm, and suicidal thoughts. I thought it would be better if I didn't exist, that it would be so much easier for people if I just weren't in their lives. At that point I became so mad with God, I didn't understand as to why He let all of these things happen. If He loves me He would fight to protect me right? It wasn't until February till my mom found out, and she had no clue it was that bad. I had hid it really well, and I could feel someone pulling it out of me.

Later on down the road I learned that feeling was God working in me. Two days after my mom found out, my great grandpa went into the hospital, passing away a week later. With being suicidal and my grandpas passing, people had told my mom i couldn't be left alone. My mom has always been a very hard working single-parent, who loves both of her kids. She would do anything in the world to protect my sister and I. I try to help her as much as I can, even if it's making meals and leaving the kitchen a mess, she still loves me anyway. She works SO hard doing what she loves, works to provide for us, and loves us more than we know. I don't know what I would have done without her throughout everything over the years. We're like the dynamos, were strong, we make each other strong, and through it all we haven't left each other's side. Even through the teenage craziness. She stayed. She never left, and never in a million years would she. I don't think she sees all the things she's done for me and for my sister, but we however do, and I know that's something I without a doubt in the world know to be true. She's my friend, my sister, and most importantly my mom. Thank you mom, for sticking by me through everything, for loving us, for protecting us, and for being our mom. That's something my sister and I will forever be beyond grateful for.

Because of how much she loves me, she decided that it would be best that I would move in with some friends of ours from church that we've known for years, who i found out later on had been praying for a long time that if it was God's will for me to come live with them for awhile, that God would arrange for that to happen. My mom was doing this to protect me and to get me the help I needed. I started going to church more and more and I felt God, I felt His presence, I felt happy and for the first time in a long time. I felt different. Later on into the summer I attended CIY in July, and it was life changing. I grew in my relationship and was baptized in November. My sophomore year became the year of growth and change, I made connections and friendships that turned into families.

I began working with EMDR to help with coming to peace with what happened over the years, and it helped, but in the end what I really truly need was Jesus. I needed to let go of my burdens and giving them to God. This past week I attended CIY, the impact it made on me was absolutely amazing. I walked out of the darkness and into the light, having a close friend break the shackles the devil had used to have ahold of me on my wrists and ankles that carried my burdens, and walking through the door with family waiting on the other side to pull me through and be there from then on. When I came home last night, I realized how freeing all of that was, all of the tears I had shed this week, all the stories we shared opening up to each other, opening up to our Church Family. I've never felt more free in my life, I know He's with me, I know He loves me, I know He's looking out for me, and I know He has plan and future for me that I will prosper in. As soon as we got home, I had 2 group chats appear on my phone, all of my youth friends who became my brothers and sisters came together and said that we will not let what happened at camp die. We will keep each other accountable, and love each other. I have a community. We had baptism service in the river before we left camp, a couple at church when we returned home, and more this Sunday during service. Seeing everyone grow made me realized that I'm not alone in this walk. I have Jesus, and a Family He has blessed me with. I have a Hope and a Future, Jesus is my Captain, my soul's trusted Lord. All my allegiance is rightfully His, from now to forever.

Love a daughter of Jesus Christ, ~Taylor
---
Click here to send a direct email to Taylor.