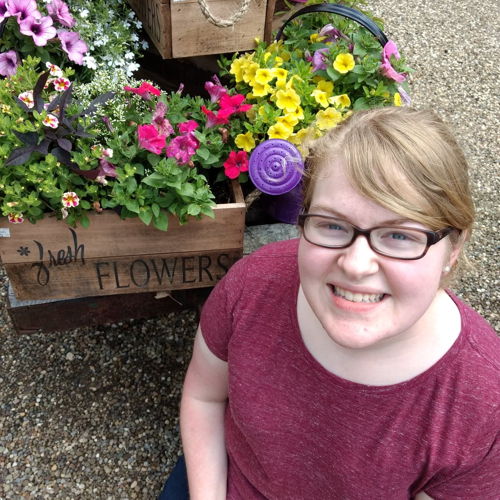 Elizabeth R.
from Kansas
Story #579
I've been very blessed to have grown up in a Christian home, where both of my parents love God and have taught me His Word faithfully. For as long as I can remember, I've been surrounded by godly influence and teaching.

I accepted Christ as my Savior when I was about 8 years old, after a Sunday School lesson about sin and its consequences. I realized how serious sin actually was and knew that I needed Jesus, though as a young child, I did not understand completely what my commitment to Jesus meant.

I began to learn more and grow deeper in my faith around the time that I was 13. After leaving the church I had grown up in, we moved shortly before my 15th birthday, and the months that followed were some of the hardest that I had known to that point. I struggled with loneliness and fear, but I was also beginning to realize that though everything I knew had changed, God had not, and I took comfort in knowing that He was with me.

The summer that I was 17, I was given the opportunity to work as a counselor at a Christian camp called Hidden Acres. It was a huge step out of my comfort zone, but during that first summer at HA, I grew so much closer to the Lord and came home loving Him more and wanting to know Him better. The four summers that I was privileged to work at camp were the happiest I've ever spent. God has used Hidden Acres in more ways than I could have ever dreamed, and taught me so much about trust, humility, and community along the way.

After I graduated high school, God graciously brought me through a very dark time which I now see was a time of owning my faith, of truly understanding and holding it as my personal choice, rather than something I'd just always known. It was a three-year journey of questioning, doubting, learning, and seeking for truth. It was a time of depression, tears, pain, and wondering what in the world was wrong with me; and although it was by far the hardest trial I had yet faced, I would not trade those years for anything. Through that pain, even through the days I didn't think I'd make it, God has shown me that He can be unreservedly and completely trusted. His Word, the Bible, is absolute truth. He never left through the fiercest storm of my life, and I know that I can completely trust Him and commit not only my earthly life to Him, but my eternity as well.

As I continue to live this life He's given me, though I don't know what's ahead, I know that Jesus' death on the cross has fully paid for my sin and that "life is worth the living... just because He lives."
---
Click here to send a direct email to Elizabeth.