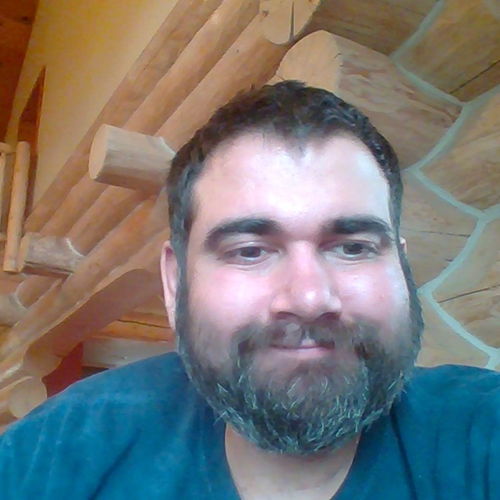 Matthew O.
from MO
Story #583
My life before God was a rebellious one and I was disobedient in School and did not follow the rules much from the time I was in Elementary School to my Junior High School Year in Special Education Alternative Schools Marillac Center & Ozanam School & Home For Boys. It wasn't until High School at Blue Springs High School I had started to mature and started to become more respectful of the rules and was able to Graduate with a High School Diploma and walk across the Isle to receive my Diploma at Municipal Auditorium in Downtown Kansas City. In 2004 during my Junior Year of High School I suffered Complete Kidney Failure and was hospitalized at Saint Mary's Medical Center of Blue Springs Missouri with over 100 Pounds of Fluid built up on my body with my scrotum area swollen to the size of a grapefruit and unable to pull my urination device out to go to the bathroom. I spent roughly almost two months in the hospital with my future uncertain and in 2006 when Israel & Hezbollah went to war with each other I started hearing all this End Time Stuff being brought up by Pastors on TV so I opened my Bible and read Revelations as that was the book they were referencing and I begin to realize that I need to acknowledge Jesus Christ as my Lord & Savior for which I did by going forward shortly after one Sunday in Church and was ushered into my new life as a Christian by our then Interim Senior Pastor Dr. Curtis Porter & Associate Pastor Jerry Craig of First Baptist Church of Blue Springs. It wasn't until a year later in 2007 I was baptized by our Singles & College Ministry Pastor Cepheus Nziramasanga of First Baptist Church of Blue Springs then shortly after I joined Pastor Cepheus Nziramasanga's Main Street Worship on Tuesday Nights and Main Street Underground on Thursday Nights as well as started helping at IMPACT Ministries in 2006 with my Grandmother up until 2008 when I had to take a break for a couple of years to fight Hodgkin's Lymphoma which I developed in early 2008 then had a Full Tumor Removal Biopsy at The University of Kansas Hospital in Kansas City Kansas in late 2008 and was diagnosed in February of 2009 at Lees Summit Missouri Medical Center following a hospitalization for Flu Symptoms with Hodgkin's Lymphoma for at which time they started my on my first treatment of Chemotherapy during that Hospitalization. The Rest of my Treatment would be administered at The Kansas City Cancer Center in Lees Summit Missouri which is now The University of Kansas Cancer Center from 2009-2010 for which in 2010 I was declared in Remission of Hodgkin's Lymphoma. In 2011 I was Diagnosed with Type 1 Diabetes by my doctor Doctor David Voshall of Blue Springs Internal Medicine and in 2012 I was hospitalized at St Mary's Medical Center of Blue Springs again with Keidoacidosis and Diabetic Shock with Rinle Failure of The Kidney's. In 2013 I was referred to an endocrinologist out at Truman Lakewood Medical Center in Lees Summit where I was tested to determine the type of Diabetes I had and I was diagnosed with Type 2 Diabetes following a more through Blood Test Done on my Blood for its enzymes. In 2018 I started having high protine in my urine so two test were run by my Nephrologist Dr. Alexander Arakelov with Midwest Nephrology Center and Dr. Chuda of The University of Kansas Cancer Center to determine the cause of the problem. I had two tissue biopsy's done of the Tumor in my chest and on my kidneys which came back no living cancer cells in the tumor and no return of the Kidney Disease Through all my Medical Problems on Sunday February 21st of 2016 at 2:00PM my family lost my Aunt Peggy Sherrill and in 2017 on Tuesday July 18th at 3:00AM we lost my Grandfather Richard Nedwed due to Alzheimer's Disease and on Monday July 31st we lost my Aunt Vickie Creekmore due to Small Cell Cancer and on Monday August 14th we lost my Uncle Kevin O'Dell to COPD/Emphysema. Through out all this I have been staying active in Church, helping out at IMPACT, working with a Mental Disabilities Community Integration Support staff on Tuesday & Thursdays to get out in the Community, and I have been competing in Special Olympics Bowling as well as Helping with Republican Political Campaigns. God has blessed me trough out my life crisises and I can say I keep coming out strong in him through it all. I can say I am glad I accepted Jesus as my Lord & Savior and I would do it all over again in a heartbeat. Take it from me Following Jesus is the best thing you can do for yourself and your family. Trust in Jesus & Salvation is yours.
---
Click here to send a direct email to Matthew.
You can learn more about Matthew
here
.
The above link will take you to a site not related to 1MillionStories.org. We do not endorse opinions expressed on external websites due to the inability to properly review the content of every linked site.