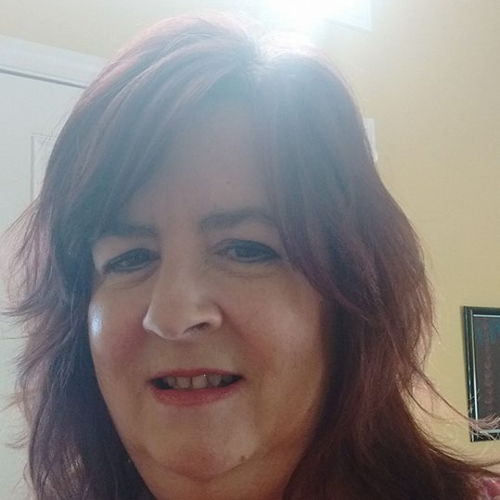 Kathy F.
from KS
Story #597
My Story – Kathy Ford

I was born March 8, 1958. I was adopted when I was three months old. I had an older brother and younger sister. I was the middle child with tendencies of wanting everybody to just get along. I was raised on a farm in Ottawa, Kansas. I had a great life growing up. I got good grades, was a good girl, accepted Jesus Christ as my personal Savior when I was 12, and never wanted to cause my parents any trouble whatsoever. I was shy too and didn't date much. My first husband was my first serious relationship.

When I was a junior in high school in 1975, I started dating my first husband. He was cute and fun, but, not a Christian. I didn't think it was important at the time. I was attending youth group and church and should have been looking for my significant other there. Instead, I picked my first husband because he was cute and he made me laugh, not exactly marriage qualifiers.

Also, that year, I was in a class called Life Seminar. They taught us about Roe vs. Wade and that abortion was legal. I didn't know what abortion was, I had never heard of it, nor would I ever have one myself, I was sure of that. Never, say never!

My first husband and I dated for 10 years and got married in 1985 when I was 27 and he was 28. We were married for 9 years, and during our dating and marriage, I just quit going to church. I had been raised going to Church of Christ with my grandparents. My great grandfather was one of the elders who started the church. It was made up of lots of family. I was baptized when I was 10 years old on Easter Sunday, along with my siblings. But, I made my personal decision for Christ when I was 12. But my first husband didn't like church and said he was a good person and didn't need to go to church. My first husband never wanted any children. So, we didn't have any. But, I had a strong yearning all of my life for children. I grew up playing with my dolls, naming them and planning on becoming a mom someday.

I would say our marriage was good until it wasn't. His dad died and he started spending all of his time with his mom. I understood I needed to give him time to grieve. I also understood that they didn't seem to be getting any better with time. We divorced about two years after his dad died.

This was the first time in my life that I felt like a failure. My marriage had failed and I knew men didn't expect me to be a virgin, since I had been married. I was a virgin when I married. But, now I felt like used goods I had low self-esteem after my divorce and I started running around with some girls who were all divorced and doing things so out of character for me. Long story short, I got pregnant with a guy after only dating him a short while. I was shocked because I had actually tried to get pregnant while I was married, even though I knew he didn't want children. I really didn't even think it was possible for me.

The guy told me that he didn't love me and wouldn't marry me and that we needed to just get an abortion. I was 38 years old at the time. I was so ashamed of myself that I had done such a stupid thing as get pregnant out of marriage. I only told my mom and one girl I worked with. I had no idea that there was any place to turn to for help. I just called the abortion clinic, made the appointment, and then changed the appointment to a week later so he could take his children to get school clothes. We had the abortion on August 18, 1996. I missed my 20 year class reunion because I was going through all of this.

My mom told me that I needed to do whatever felt right for me. She was a Christian and I don't blame her for telling me that. She just didn't want to make the decision for me one way or the other. She did offer to watch the baby should I decide to have her. She had already raised my sister's daughter and I felt that she and my dad deserved retirement, without children.

In my heart of hearts, I knew I couldn't carry her and hand her over for adoption. So, abortion, really seemed like the only other option. I never considered keeping the baby and raising her by myself. I thought I would be poor, and not be able to be a single mom. Now, I know that if God gave me that baby, he would have given me the means to raise her.

Right after the abortion, I felt some relief that I wouldn't have to worry about it all anymore. But, this was followed by regret. I would think about how old that baby would be, what would she look like, what would her life have been like, etc. But, I just stuffed it all down and continued on with life. This all happened before my current husband. But, I did tell him all about my abortion before we married because it still bothered me and I wanted him to know everything about me. He was very understanding and sweet about it all.

I was divorced for five years and Charles for ten when we met at work at Sprint. He came with three children – aged 14, 16 (Sons) and 19 (daughter) at the time. We met at work and had our first official date on December 17, 1999. Things went fast for us. By Valentine's Day, he had proposed and we went to Tennessee to meet his parents in March of 2000. Our wedding date was set for June 3, 2000. While at his parent's house, we conceived Ally and came home with her in progress. We were very much planning on having a child together. We were actually quite thrilled she was on the way. We tell her she came a bit early, but, she was so wanted. We got married as planned and she was born on December 17, 2000, exactly one year after our first date. God's plan!

We have always told Ally that she is special because her birthday is almost the same day as the baby Jesus. The other children grew up and are out on their own. Ally is the only one still at home and she is a senior in high school this year. She is also exactly what I ordered. I asked God to give me a baby girl with curly red hair. He does indeed give us the desires of our heart. She is such a blessing to us! I was almost 43 when she was born. Charles is four days older than me. She keeps us on our toes and hopping. We are now 60 and she is almost 18. God gives babies life and he takes life away. We have no right to do that which is why abortion is so wrong.

When Ally was seven, we were at church and the praise team came out and sang that old rock and roll song by the Animals called House of the Rising Sun. It came out in 1963 when I was 5 years old. There is a house in New Orleans, they call the rising Sun. I was sitting and being quiet at the time. Ally was in her class and Charles was ushering behind me. I was living in guilt and shame about my abortion. And, it never occurred to me to ask for forgiveness. I was a busy mom of a baby and three teenagers for years. I guess you could say I stuffed the guilt and shame down and carried on. I knew I lived in a miry pit, but, had no idea how or what I needed to do to get out of it. But, on this day at church, with that song blaring loudly, God swooped me to heaven and in his presence said "Child, you are forgiven." Not an earthly voice, more like just I knew what he said. It is hard to explain because heavenly things don't equal what we know on earth. Everything was white, peaceful, serene and bright; a calm like no other calm. Then, I was back in my seat, crying. For a solid week I saw God in everything. I knew I had been some part of a God-miracle. But, when I told my friends, none of them believed me. They were calling Charles saying "what kind of diet pills are you guys on?" We were doing the Slim 4 Life diet at the time. But, that had nothing to do with what God did in my life. However, with this new awakening experience with God, I turned my life around and started following him again with more conviction.

About a month later, I saw in the church bulletin that they were having an abortion recovery bible study through Advice and Aid. I didn't know that what meant, but, I signed up. We went thru a book called "Forgiven and Set Free" by Linda Cochran. I found so much healing there. And, I started co-leading the bible studies and helping other women recover from their abortions. Advice and Aid is a pregnancy center with two locations, Shawnee and Overland Park, Ks.

Then, God said "Tell your story, write a book." I wrote it as well as two mom books. The House of the Rising Son is my memoir. My mom books are called "The Things a Mother Knows, a humorous journey through one mother's life and More Things a Mother knows, the journey continues through middle school." Currently I am working on a high school version. I wrote the first two with a Christian publishing company that went out of business and had to re-write them and the new one in create space. All books are available on amazon.com. I write under the pen name of Nicole Bradley. The publishing company asked me to do that even though all of the names in the books have been changed. It is a legal issue.

When God took me to heaven (I call it my awakening), and said "Child you are forgiven," I still had work to do on me. I still had to forgive myself. Through Advice and Aid, I named my child (a girl) Shannyn Allyse. I say Allayn Noelle (Ally) walks with me now and I will walk with Shannyn later. Notice how Shannyn, who is 21 now (in earthly years) has the letters of Ally's name within hers. Not my plan, a God plan. God forgets your sins as soon as you ask for forgiveness, as far as the east is from the west, the bible says. If God sets you free, you are free indeed.

I know that my Shannyn is with Jesus and God in paradise. I know I will see her one day and I have already apologized to her that she didn't get to live her God-intended life. I know my mom who died in 2014 is in heaven with her and I can't wait to get there too to be with them.

About two years ago, Charles suggested I look for my biological mother. I have never had the desire. He is into genealogy, so we looked. I found out that I was the oldest of 7 children born to a 16 year old mother. God took me out of a bad situation. He rescued me. She wasn't happy that I found her. But, I found and met two of my siblings who are very nice people. Two of the boys are deceased and one of their obituaries helped me find my biological mom. She had buried the experience of having me and putting me up for adoption. She was mad I found her and she wants nothing to do with me. Ouch, that hurt. But, I knew before we looked it could be that way.

So ending this up, I just want to say, I am a child of God, first and foremost. My other titles are wife, mom, step-mom, daughter, sister, and friend. CHILD of GOD makes the others seem trivial. I know that God has a purpose for my life. And, I know by telling my story I can help women not be unequally yoked, like I was in my first marriage, or not to get abortions (like I did, and regret). I hope you found my story to be uplifting and inspiring!
---
Click here to send a direct email to Kathy.
You can learn more about Kathy
here
.
The above link will take you to a site not related to 1MillionStories.org. We do not endorse opinions expressed on external websites due to the inability to properly review the content of every linked site.