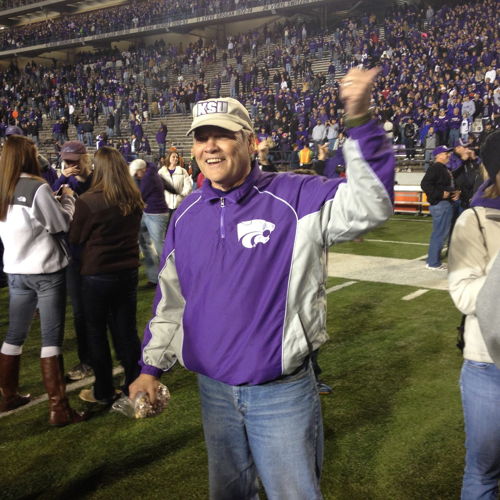 George B.
from KS
Story #602
I grew up in a small farm in Oklahoma – my family was a member of a local church and we attended regularly. I went to Sunday school regularly and learned the 23rd psalm by memory in one class for a prize of a Bible and a giant Hershey candy bar. I learned that a Christian tried to follow the rules and I joined the church at age 12 on Easter Sunday after a year of confirmation classes. I was meaningful to me at the time and I know that there was an older fellow named Dusty Rhodes who was baptized at the same time as we kids. He had a special life story with Christ and the rest of us just had a classroom knowledge.

Later in life I continued to have jobs in the church as a Sunday school teacher, church basketball coach, and my wife Jane's father was a minister – so I stayed quite active in all of church life. At thirty, I was invited to a small group book study on "Second Chances" by Keith Miller. We had several nights of study in preparation for what was called a lay witness team coming to our church. The mission team came for a weekend full of services – on Friday night, all day on Saturday, and Sunday morning with different people from various denominations giving witness about their experiences with Jesus. I remember on the Saturday evening service, there was an altar call for people to go up front and pray for their needs. I couldn't imagine my going forward because at my church services when growing up, no one went forward to the altar. That was only for the pastor and the choir members and the only time we raised our hands was when we were volunteering for a committee.

But, strangely, I felt the Lord had called me to go forward – but I was resisting. And then I saw our small group leader coming down the aisle. His name was Cal Johnson who had a very disabling condition called spondyleosis which is where the spine vertebra welded together – so he could only stand or kneel and walked with crutches. But, he wouldn't let that deter him!

I realized that I was only letting pride keep me from going forward – so I followed him to the altar and prayed there for forgiveness of my pride and other sins. And, since that time, I realized that I was only being a self-righteous hypocrite trying to earn my way into heaven, trying to do more good than bad, and realized that Jesus had already done it all – and had paid for my sins on the cross.

I relieved my burden of self-righteous acts and from then on, I started in a Bible study in earnest to learn what Jesus had for me. I found that doing things now was in gratitude for what Jesus had done and it changed my whole focus. It has carried me through my own trials including 14 years of farming without any bumper crops or any real encouragement from the land.

I continue to see my lessons the Lord is teaching me and try to honor Him when called upon. We have gone on many lay witness missions with my family and have served with a good friend in prison ministry for 10-12 years. I am now serving in apartment ministry with a good friend from church for two or three years now and participate leading the services each month for Westchester Village nursing home residents there.

I keep busy with Bible study and small groups regularly and it is very rewarding. I have had the great pleasure in seeing family members and grandchildren join the church and being baptized. We also had the pleasure of going to Israel in 2016 with our church and being re-baptized in the Jordan River. God is ever so good!
---
Click here to send a direct email to George.
You can learn more about George
here
.
The above link will take you to a site not related to 1MillionStories.org. We do not endorse opinions expressed on external websites due to the inability to properly review the content of every linked site.