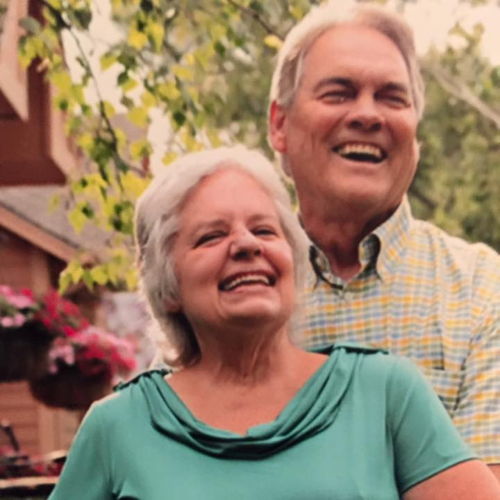 Jane B.
from KS
Story #603
I was born into a pastor's home at the end of January of 1946 and loved it all. We were never blessed with much money – but always had what we needed and my folks were the best. My mother was nearly always our church's choir director so I went through my life as a youngster sitting down front alone – my parents were up in front with the choir and I know that I was treasured. I actually loved being named Charlotte for my father, Charles Oral Lowe, but was always called by my second name, Jane.

It was always a busy church life – living right next door to the church – we very often had to take a key over to unlock the gymnasium for many young boys who loved playing basketball. Of course, we were always in church each Sunday all Sunday – and Sunday evening, Wednesday night. Living through the 50's brought a myriad of evangelists to our town – it was the revival era and life was good.

I well remember when I walked down that long church aisle in 1952 – at six years of age – to become a member of Boyd Memorial Christian Church in Charleston, W. VA. I was delighted and then, nearly right away, was given the sweet privilege of being baptized on Palm Sunday. I do remember that I was so small – that Daddy had to stand me atop the baptistry grate so that I could be seen. I delighted in having my own dear father to baptize me into God's kingdom. Church was good.

We were at this church from 1937 until 1957 and, when I was eleven, we moved on to Jonesboro, Arkansas – and then shortly after, went on to the Chicago area where I graduated from high school and went on to begin college. I do feel that the Lord was always my best friend – other than Him, music played a close second in my life. I was always in special singing groups – and really enjoyed Madrigals throughout my high school years. We sang all over Chicago – riding the L down to many different opera houses to sing (very often throughout December) and so enjoyed singing. Throughout my years in Arkansas and in Chicago, I had very close times with my Lord especially in summer camps – I well remember feeling His presence at Inspiration Point, Arkansas and in Illinois camps as well.

During my junior year in college I met and fell very much in love with the most amazing and Godly man I have ever met – George H. Bocox, Jr. He walks ever so closely with our Lord and has been the most precious example of the self-sacrificing love of our Lord Jesus. We were married less than one year later in February of 1966 and God has continually poured out His blessings upon us.

Always remember so well in my second year of teaching fourth grade, we were called back into the Army – my husband was in the National Guard and it was quite a shock. But, we found Jesus led us at Ft. Sill, OK and off we went with our first gal, Bethany. Those times were good years – and always we tried to keep Jesus as our head and guide. After we were released from the Army we added two additional daughters, Jenny and Mary – and finally, a son – George – who is a pastor at New Hope Evangelical in McPherson, KS. At the church we attended for many, many years, I led the Sonburst Choir for children from 3rd through 8th grade and delighted in finishing each of the seven years with a musical. Life was constantly full of His love and His leading.

About seven years ago we began attending LBC where God has brought so many additional blessings. Will always remember Sandy Badgett sharing with us – my buying her book – and returning to talk personally with her. What a lady filled with our Lord! We have met ever so many who have also drawn us closer to Him. The women's Bible leaders here at amazing and I thank God for them always.

We have always been tithers for the Lord's work and have grown exponentially in that – you can never outgive God – He brings blessings always and still He draws us. We began going on lay witness teams and giving witness in song and in word in many denominations around the nation. We have found so many precious friends in serving the Lord in this realm and has been president several times in the Kansas Sonflower laity – continuing on as vice currently. We have been to Oklahoma City area several times on lay missions – and so remember going fairly soon after the OKC bombing to the church which served as the morgue for those in the federal building right across the street – and remember how the "head of Christ" (from the blown-out stained glass windows) was found right on the sidewalk so perfectly preserved.

There is no greater gift than prayer which sustains and leads us – ever drawing us to bring another one to Christ. We delight in spreading His seeds on these missions a few times each year.

Another love of mine is sending encouraging get well and encouragement cards. I so well remember sending cards – probably easily 40 or more – to a person in western Kansas who had not known the Lord throughout life and was dying of cancer. Each of my cards would always contain a brightly-colored index card which had the salvation prayer in various forms written on it. She would call me and tell me what it had meant – but I didn't know if she had gone to Him for salvation.

On the day before her death (and the family said that she had been before in such pain and often not even clear in thinking, etc.) – she actually asked a family member to bring some of those cards to her room and asked her younger sister to lead her into that prayer. Her sister shared with me – that she was so clear and lucid that day and knew exactly what she was doing and delightedly asked the Lord into her heart. Evidently she then lay back comforted by what she had done – and went on back to sleep. She never re-awakened before her death the next day. It was a joy to go to her precious funeral and speak with her family. I do plan on seeing her one day and delight that God so directed and led me. Persistence and God do go hand in hand. I delighted in her homegoing and know that she is waiting for us to follow. What delight it brings!

There is no greater gift than prayer which sustains and leads us . . . ever drawing us to bring another to Christ. For over 36 years I actually had a precious prayer partner who would always pray for our needs and bring us such joy and deliverance. It was ever so difficult about four years ago when she passed on into His heaven – this day she is wearing such a crown and sitting at her master's feet. We now have the precious privilege of praying for eight grandsons and delighting in their knowing and loving their Saviour. There is truly no greater joy than to know that your children (and grandchildren) abide in the Lord. His joy knows no bounds! We always thank Him for His affirming love and for all the many promises that His Word assures.
---
Click here to send a direct email to Jane.
You can learn more about Jane
here
.
The above link will take you to a site not related to 1MillionStories.org. We do not endorse opinions expressed on external websites due to the inability to properly review the content of every linked site.