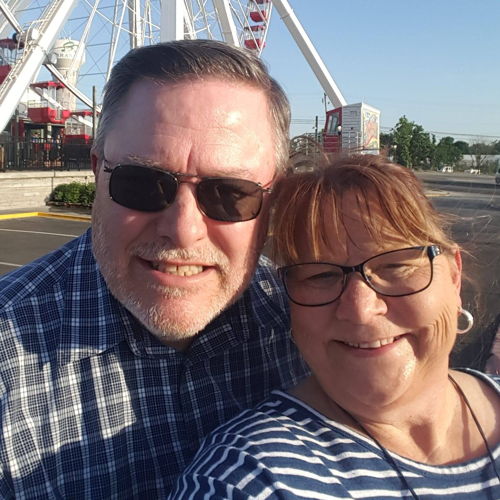 Brenda H.
from KS
Story #606
I am the youngest of 4 girls. I grew up in New Orleans, LA. As a child, I went to church regularly. I was baptized about the age of 10, because that is what was expected of me. As the 4 of us girls got older we got busy as a family and church was no longer a weekly occurrence. We still went occasionally but most Sundays were spent doing other things. During high school I was active with Young Life but was not living what I said I believed. After high school I went off to college at LSU. I was having a lot of fun, and not doing much studying. In October of my freshman year I went home for the weekend and my parents hit me with news that I thought was going to destroy my life--we were moving to Kansas. (They were both from Kansas so it was going home to them). For me, it was leaving everything and everyone I ever knew. I was not at all happy about this upcoming move. I went back to school very discouraged. About 2 weeks before the semester ended I was walking to class and saw a girl from high school. She told me that she had been praying for me and invited me to go with her to Campus Crusade that night. I was shocked that she even knew who I was, because we did not run in the same circles in high school. I went with her and after the meeting that night I fell on my knees in my dorm room and gave my heart fully to Jesus.

As soon as I finished the semester I flew to Kansas to join my parents. We lived in a small town and I went to Junior College. We began going to the church my mom grew up in and one night at a revival my dad re-committed his life to the Lord. He became such a Godly man and a true spiritual leader. The summer after my sophomore year of college I decided that I had enough of the dating life (I had done quite a bit of it and none of the relationships were not good and definitely not pleasing to the Lord. I prayed very earnestly that if the Lord had a husband for me that He would show me in His timing. I went off to Pittsburg to finish my degree in Social Work. I had heard about a group on campus called Campus Christians and decided to check it out. I loved what I found; a group of fellow believers loving the Lord and doing life together on campus. A fellow social work major invited me to go on the fall retreat with the group and I signed up to go. On the way there I was a little nervous that I was going someplace where I only knew 1 person. Once we got to the retreat I saw a girl that I had gone to Junior College with and went to talk to her. She introduced me to the guy she was sitting with. When I shook his hand I KNEW instantly that he was my future husband. He was a strong believer and we began to date right away. While attending a Campus Christian meeting one night I felt a strong pull to be baptized again...this time I knew what it truly meant and why I was doing it.

One week after graduating from college Myron and I were married. That was 38 years ago. We certainly have not always gotten life right but God has always been faithful. After our second son was born Myron took a job in northern Iowa. We moved up there in November. In February of the next year we found out that I was pregnant. I didn't think I was ready for another baby, our son was only 6 months old, but I knew that God always knows what is best so I gladly accepted the fact that we were going to have another child in the fall. In March of that year the company Myron worked for went bankrupt and we lost not only our job and only source of income, but our insurance as well, We moved back to Colby (where we were living before the move as well as Myron's home town). There was a social work opening in Colby so I immediately went to work and Myron began farming with his dad. Our baby was due on October 5th. When that day came and went and I was still pregnant, I was a little discouraged. Two more weeks went by and still no baby. My doctor decided to induce labor on October 21, 1985. That day would change our lives in ways we could never expect!

After checking in to the hospital and starting the medication to induce labor we spent the day sitting, walking, watching TV, reading, and waiting. At 6:00 pm my doctor (who we referred to as Doc) came in and checked me. I was only dilated to 3. He said that maybe we miscalculated and if I did not have the baby that night he would send me home the next day to wait a little longer. After he left I decided to lay down and get some rest, just in case I did go into labor. About 6:30 I felt a snap in my stomach and said that I was going to be sick. I thought that I just threw up and passed out. I found out later that I had a grand mal seizure. When I had the seizure the nurse pushed Myron out of the room. My doctor was paged to return to the hospital. Because there was no surgeon in Colby the decision was made to take me by ambulance to Hays, 100 miles away, to perform a c-section. As they were getting ready to load me on the gurney I started yelling that I had to push. Doc checked me and I was ready to deliver the baby. I was taken to delivery and after just a short time delivered a 9 lb 5 oz baby girl. They showed her to me and let me hold her for just a very short time and then took her away. She was very blue from the stress of the seizure and spent her first night in an incubator. I began to bleed profusely. In a very short time I had 4 IV's going--two were pumping in saline and 2 were pumping in blood. Doc tried everything he could to stop the bleeding. The pain was intense. I then found myself in the most beautiful, peaceful place I had ever been. I knew it was heaven. I remember saying "I can't leave Myron alone to raise three babies". I heard the Lord tell me "I grant you life". I was back in the hospital room, and back in pain. At one time Doc had tried everything he knew to do medically. He went to the foot of the bed, put his hands on my feet and started praying. I instantly felt the warmth of his prayers move throughout my entire body. The decision was made to take me to Hays, this time for a hysterectomy. I was put into the ambulance, along with the 2 EMT's, a nurse, and Doc. While on the way to Hays I again went to heaven. I asked again to raise my children and heard the same voice say "I grant you life". I was back in the ambulance and back in pain. Myron's dad was driving our car with Myron and his mom in the car. My mother-in-law had been praying the entire time and about half way to Hays said "she is going to be fine". A group of ladies (including Doc's wife) were in Colby also in constant prayer and all 6 of them, at the same time, said amen. We learned later that both of these things happened at the same time I stopped bleeding. Upon arrival in Hays I was taken to ICU. They decided not to do surgery since the bleeding had stopped. The next few days there were many ups and downs. On Thursday (the baby was born on Monday) I was alert enough to realize that I had a baby that I had not yet held. On Saturday the doctor in Hays said that I could go back to Colby on Sunday but would have to have a nurse travel with me, be able to lay down, and go straight to the hospital. Arrangements were made. My in-laws would bring a nurse and their motor home to transport me. Sunday morning the doctor walked into my room and said, "I don't know if you believe in miracles or not, but I cannot explain this. You should be dead. Instead, all of the blood test done this morning show that nothing is medically wrong with you. You can go home". Myron and I both agreed and told him that we did believe in miracles and we knew that it was the Lord who had healed me. Six days after I gave birth I was finally able to hold my baby. We had her named picked out before she was born--Angela. I later learned that Angela meant God's messenger. How very true!!

Throughout the 38 years of our marriage God has continued to reveal Himself to us--not quite in the same way he did the night Angela was born--but in ways we have never doubted His love for us. We've been through trials of our own making and many things that have been out of our control. We've lost loved ones, survived the teenage years with three kids, had other health struggles, but in all of it God remains faithful and unchanging.

Our children are all married and we are blessed with 10 grandchildren. It is my prayer that I will always be a light to them. As we work and serve in the Wichita area I am excited to see where God will continue to lead.
---
Click here to send a direct email to Brenda.