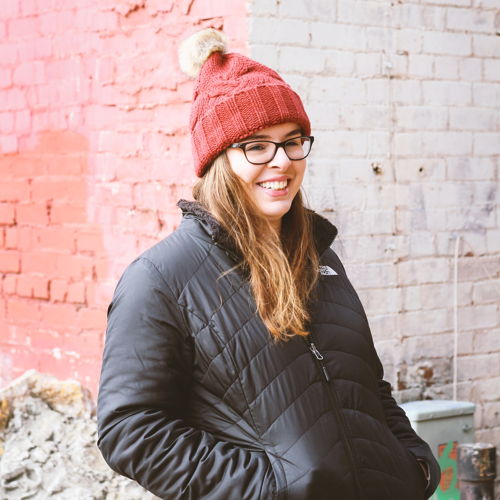 Abby S.
from MO
Story #607
The last time I shared my story or officially wrote it out, I was a sophomore in college. Now, as I am in my fifth year in college, so many things have happened since then and I'm excited to take this time to share my story with you and reflect on all God has done.

I was born in Kansas City, MO. I was blessed to be born into a Christian family and my parents always remind me how grateful I should be for that. Without the decision my parents made in high school, I probably wouldn't be a Christian and I know I couldn't have made it through the hardships life has brought my way. I accepted Christ as my savior at a young age. I participated in Awana and every Wednesday they would ask the group of kindergarten to fourth graders if they wanted to accept Christ into their life. So of course every week I said yes. I was constantly told of God's goodness, why wouldn't I want to follow him? I don't know what was going through my head when I did that, but I raised my hand during that prayer every week, or at least on more than one occasion. It wasn't a very significant experience at that time in my life. I couldn't fully comprehend the reality of the choice I had made. I did more officially make the decision to follow God when I was in 4th grade at a summer camp. I think then I was at an age where I could know and articulate the good news that the world is full of sin and heartache, but there is hope in the death of Christ for our sins. He was buried and rose again and as long as we believe in his death and power and resurrection and devote our life to following him, we will get to be with him when we pass away. I firmly believe that all of my life following that moment is a testament to God's goodness and providence when we choose to follow him.

My family lived in Kansas City until I was six years old. We then moved to Council Bluffs, IA (this is where we lived when I decided to follow Christ) and then to Omaha four years later for my dad's job or education. Since I was so little, there was no struggle for me when we relocated either time. Omaha is where I did a lot of growing - physically, spiritually, and mentally. I was comfortable and happy with my life. At the end of my eighth grade year, July 2, 2010 to be exact, my family moved back to Kansas City from Omaha for my dad's job. The next two years were extremely hard. Moving into your first year of high school is a huge transition in itself, but knowing that you're going into it without any friends is so much worse. That was my initial thought prior to moving, that school was going to be awful. I was going to be uncomfortable. And I was. My discomfort translated a lot of different ways to my peers and I received the label and even labelled myself as quiet and shy. I was very nervous and was not sure of myself. My confidence only started to develop my junior and senior year when I found the things that I loved and did well in and I found my place in high school. The marching band's drumline was a huge highlight of my high school career and I still look back fondly on those memories today. It provided an outlet or a way to express myself, I made a lot of friends through marching band, and it was something I truly enjoyed and I felt happy and could let loose a little when I was playing. The yearbook staff was also a turning point, in that it led me to my future career and ultimately helped me to find what I want to do with my life.

Another huge part of moving was finding a new church. This was a huge struggle for our family. Finding a good church when you're forced to relocate is extremely hard and it was a task that my parents took very seriously. They had five kids trying to walk in the Lord behind them and any mistake in picking a church could ultimately ruin the rest of us. I can barely count or remember all of the churches we tried. I tallied all of the major churches up and the count comes to in a span of eight years, we've been a part of five churches, and I've learned from twelve youth leaders. It seems like every time I started to get comfortable and settle into a youth group or grow close to my youth pastor, a pastor would leave, we would move, or something within the church would fall apart and we would have to get up and try again. As I grew older and we moved from church to church, I learned a lot about the body of Christ and how to have a servant's heart and put it in to action. I learned how to trust people and how to protect myself when necessary. I learned how to encourage and be there for others even when it hurts. Most importantly, I think, I learned how to rely on Christ rather than leaders or peers for consistency or sustainability in my walk with God.

Despite the uncertainty and the demand to be flexible, I grew a lot throughout high school. Going back even further, remembering that little kindergartener raising her hand to be talked to about being saved every week of Awana, the pivotal moment of that "being saved" phenomenon was looking back on where I was in those early years of high school and seeing how far God has brought me. He truly carried me, a lowly sinner, through some of the hardest parts of my life, and I know I can fully trust him.

When I left high school and moved towards stepping out on my own into college life, I was excited and thought that I would encounter the typical college student life, living in the dorms, making tons of new friends, the usual. My college career has been anything but the usual or the normal or typical college student life. I started my college career at Missouri State University and was so excited to be a real adult and experience all the new things that college dorm life had to offer. I soon found out that unless you are "lucky" enough to have your parents paying for your tuition and the luxury of living in a dorm and adult life and college life is, or at least in my case, a consistently empty wallet, sad dorm food, and very stressful, isolating and lonely. I was still growing and had the shy and quiet label from high school stuck on me and I could not seem to shake it. I got plugged into a campus ministry and that was a great help, a real light in the darkness. It lead me to friends and leaders that were very encouraging and it was helpful to have that environment in a time where I felt so lonely. Isn't it crazy that you can be living on a campus with thousands of people and still feel so isolated in your stress and heartache? I remember that around this time the song Oceans by Hillsong came out and it is such a good song and has so many great messages. The bridge is so profound, speaking to trusting God, asking Him to lead you where your trust is without borders, that your faith would be made stronger.

Since I had been paying for my school myself, I did get to a point where I was stuck and couldn't pay my bill to sign up for classes the following semester. I had to move back home and go to community college and work hard to pay off my bills at Missouri State and it seemed like the end of the world. I felt so unsuccessful and like a huge failure. All my peers from high school didn't seem to experience any of the same issues I had and I regularly compared myself to my old high school friends through seeing their social media posts. All throughout my community college career while I was getting my Associate's degree, I had such a hard time facing anyone who knew that I was at MSU and having to tell them that I had to move back was so disheartening every time I recited my spiel. I thought so carefully about how I could say it so that I didn't seem like a washup and recited it the same way every time.

The song Oceans continued to gain popularity and whenever it was sung at church I would avoid singing along with the bridge and occasionally shed a few tears. I was so far out of my comfort zone, I was so far beyond my borders and my comfort zone and I thought that God had led me too far. I was so frustrated with God and with myself that I couldn't lead the life that all of my high school peers and the rest of the college student population seemed to be enjoying. There are so many lessons that I learned since having these thoughts. There is so much to be said for social media and reminding yourself that it is only a highlight reel of those you follow and that everyone else has struggles that you seldom will ever see on social media. And how selfish it was to refuse to worship him while I was still learning to rely fully upon him and it was foolish of me to refuse to ask him for the trust and faith to see me through that time. He had such a good plan for me when he lead me through the tough times that he did, and I know he still has the best for me. I just need to trust him, follow him faithfully, and work hard for his kingdom all the while.

I did eventually alter my mindset on community college, and I enjoyed my time there. I finished my Associate's degree and have moved on to a Park University. I truly love and enjoy being there, I enjoy my classes, and it was so worth the wait. I'm finally feeling at home and like I am enjoying all of my graphic design and art classes. I do still live at home and have found that I truly am there for a reason, I am able to help my family when they need it in a way that I could never when I was 300+ miles away from home. I was able to develop a healthy relationship with a man that I truly love. I was able to get involved and serve faithfully and eagerly with my home church. I have had new job opportunities that have grown and stretched and taught me so much. God has such great plans for our lives if only we trust and listen and faithfully serve Him.

Now, as a senior in credit hours but a junior in terms of my degree path (still a hot mess, don't worry about me) and an adult, I constantly struggle with the reality that I have such little control over the craziness that is life. I don't know what is going on or what I'm even doing most of the time. With the struggles of everyday life, I find myself more often than not being dissatisfied. I would rather be somewhere other than this particular time in my life. I want a family, a career, a home to call my own. I feel uncomfortable and unstable and complacent, to say the least. But this quote by Francis Chan gets me everytime.

"But God doesn't call us to be comfortable. He calls us to trust Him
so completely that we are unafraid to put ourselves in situations where
we will be in trouble if He doesn't come through."

My whole life has been a struggle between comfort and discomfort. It is in our discomfort that we are able to witness to those around us and make a difference. I know that for myself, if I was comfortable, I would not be very willing or likely to reach out to those in need of the Gospel. It is still difficult to remind myself to not focus on my discomfort and just getting by and look around for other peoplel to help, but I am learning. Every day I have to tell myself to just make it through today knowing that I will be okay as long as I trust God and encourage others to do the same. It might be a struggle, but it's a struggle worth fighting. Because I know that right now, at this exact place and time in my life is where God wants me to be. I am learning new things every day, but one thing that is constant is that God is so good.

"But he said to me, 'My grace is sufficient for you, for my power is made perfect in weakness.' Therefore I will boast all the more gladly of my weaknesses, so that the power of Christ may rest upon me. For the sake of Christ, then, I am content with weaknesses, insults, hardships, persecutions, and calamities. For when I am weak, then I am strong." 2 Corinthians 12:9-10 (ESV)
---
Click here to send a direct email to Abby.