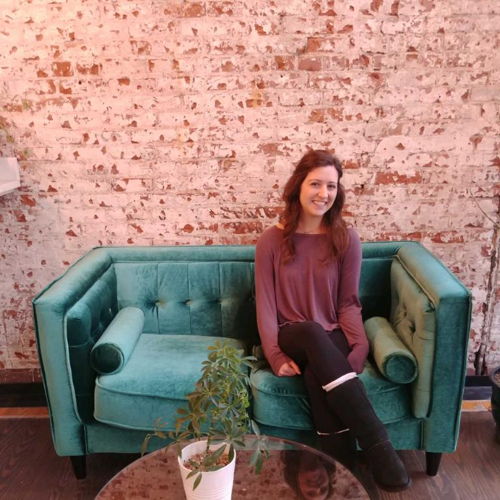 Mackenzie L.
from KS
Story #626
My name is Mackenzie Lewis. It means a lot to me that you would choose to read my story. Know this: You are loved, you are treasured, you are chosen, and God loves you so much that He is reaching out to your heart through the people you encounter and the circumstances you are in.

All my life, I felt like I didn't have a story, I grew up with parents that loved me, we went to church every week, we had devotions, and I loved Jesus and knew what it meant to follow him. But when I was about sixteen I felt like I was trying to be a good Christian. I was relying on myself and unconsciously I had taken Christ out of the picture. I trusted so long in myself believing that I could be a better person, but I kept failing. I finally cried out to God saying, "God, this life that you've called Christians to is impossible, no one can do it!" He just smiled at me, telling me that he didn't ask me to do this on my own. I finally realized that I had been trying to do this without him, carrying a burden he never asked me to. Being a Christian means doing life with Christ, asking him to change me and fill me with His Spirit daily, and laying every part of my life down at the foot of the cross.

I have dealt with anxiety, fears, and finding my identity. I claimed that I trusted him, but my life didn't show it by the way I spent my time. I have struggled with forgiveness, but God has shown me how much he has forgiven me and how if I expect to be forgiven my many sins that I need to forgive and love those around me.I have dealt with selfishness, hanging onto relationships, and friendships, and I have worked through body image issues. I realize that these weaknesses are meant to show me my need for Christ, for where I am weak, there He is strong. He has used me when I have trusted in Him, humbly asking Him to use me. He has shown me that I need to hold everything in my life with a loose grasp. The things that I spend the most time doing or the things that distract me from Him, I need to evaluate to make sure that Christ is on the throne of my life.

I gave God my heart and life and I serve Him every day that I live. He has saved me from the heavy weight of this world and I have experienced complete freedom in Him. He showed me what it means to find my identity in Him and not in the things of this world. He has healed me from trying to find my identity in how I look, what kind of job I have, what I'm good at, and what people think of me. Because he has changed my heart, I can care about everyone and show His love to the people around me. My goal is to share with the people I meet that there is hope for the next life, that life truly is better with Christ. He doesn't just save us save us from our sins, not send us to hell or give us heaven, he is the best good we can ever experience in this life. He loves me, his daughter personally and intimately. He loves each of us like there were only one of us. That is how we can love the people around us, with Christ's love, that is how we shine in this dark world. He challenged us to love each other, this is how others will know that we belong to Christ.

Christ has changed my heart and my life forever. I'm so grateful that he never left me in my sin. He has pursued me with His love that never lets me go.

---
Click here to send a direct email to Mackenzie.