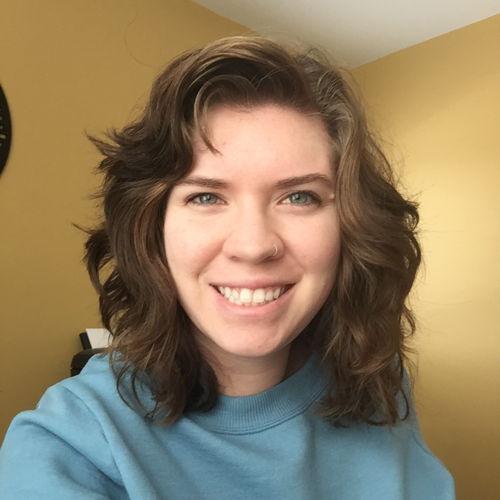 Nicole C.
from MO
Story #627
Angry, confused, and scared, this is how I would describe myself before I meet Jesus. Growing up, my brother and I knew that our mom was a strong Christian. She would bring us to church with her, and we would be involved in various church programs. My dad, on the other hand, was very much against the church and Christianity. He vocalized his views every Sunday as the rest of us scrambled out the door. He was sure to remind us that all the church wanted was our money. Needless to say, as I got older I became more and more confused about why we were wasting our time going to church. I slowly began dropping out of programs and youth groups and trying to skip Sundays when I could. I was full of anger towards my dad and at God for giving him to me. In high school I coasted through life and filled my time with friends and activities.

I was often confronted with the fact that God wanted me to surrender my life to him. I had a church that preached to Word and Christian friends that challenged me. On the outside I knew what to say and how to act to avoid any further confrontation. However, on the inside I just kept saying no. I didn't want God to be in charge of my life, and I was scared of what others might say and what God might call me to do.

My senior year of high school, my brother invited me to join him and his friends to a Christian conference. It sounded like a fun, so I said yes. I found myself standing in a huge stadium with thousands of people all worshiping God. I had never seen anything like it before. I vividly remember looking around while a band was playing a worship song. I saw people from around the world all worshiping in their own unique ways. Some were dancing and singing, some were crying, some were on their knees, and others sat quiet and still. In that moment, God became more real to me than He ever had before. I knew that the Spirit was showing me a picture of what heaven would be like.

I couldn't deny it any longer. I was broken, and I needed saving. I was overcome with the fact that God loved me enough to pursue me, and that He had given me a way to Himself through Jesus. Because when Jesus died on the cross, he cleared my bill of sin whose payment was going to be death and separation from Him forever. Jesus payed the price for me so that we could be reconciled. I knew that He deserved nothing short of my whole life.

After I had made the decision to surrender to God I was filled with joy, clarity, and boldness. I finally had purpose in life! A year later I started volunteering at an urban coffee shop ministry (Eleos Coffee House) where I continued to grow in my knowledge and love for the Lord. While there, I also fell in love with another volunteer who is now my wonderful husband. As I'm writing this, I've worked at the ministry for over six years. Two of those years we spent in Detroit establishing a second coffee shop ministry location before moving back to Kansas City to have our beautiful daughter.

We are constantly in awe of everything God has done in our lives and the responsibilities he has entrusted us with. While some of them have been extremely difficult and challenging, we both know that our hope and peace will always be in Christ.

Galatians 2:20
"I have been crucified with Christ. It is no longer I who live, but Christ who lives in me. And the life I now live in the flesh I live by faith in the Son of God, who loved me and gave himself for me."
---
Click here to send a direct email to Nicole.
You can learn more about Nicole
here
.
The above link will take you to a site not related to 1MillionStories.org. We do not endorse opinions expressed on external websites due to the inability to properly review the content of every linked site.