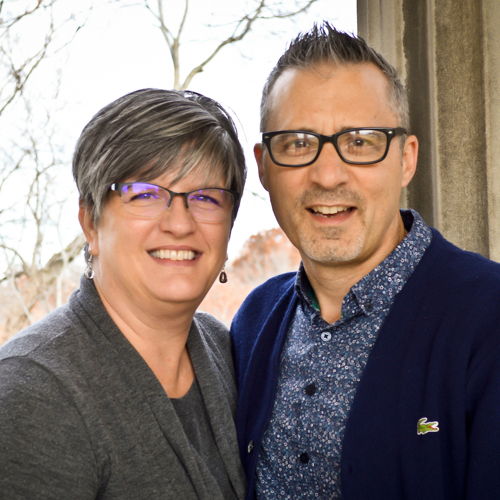 Philip P.
from MO
Story #631
Are You Working Too Hard?

I grew up in a loving family that attended a church every Sunday. I learned that doing the right things and attending the Mass on Sunday meant that I was good to go. I thought following the rules and being a good person was enough to get into heaven. After all, I never took anyone's life or did anything really bad enough to get me in trouble with the law. If I could just walk that line, work hard and try my hardest, I was going to be alright.

My high school years and several years following were very rough. During these depressing years, I attended a lot of parties, I hung out with a lot of different people, had a lot of girl friends, drank a lot on weekends and found myself in many situations that I am ashamed of today. After high school, I found my way back to the church by way of a confirmation class. I sort of rededicated myself to religion.

Soon after, I began to date a girl from high school named Donna, who would later become my wife. She was saved at a very young age, but her parents stopped going to church leaving her with a very shallow foundation. She knew she was saved but she had no one to teach her about following Jesus.

Around the time we had our first daughter, I began to question my new life as a new father and husband. Having a child made me feel very responsible for this little life in our home. I began to question everything I was doing. I was now to be an example to this little life. What was I listening to? What was I viewing on television?

It was at that same time, a friend that I had worked with invited me to hear him sing in the church he attended. I was trying to remain in my family's church, but I noticed that Donna seemed very uncomfortable so we decided to visit.

At this same time, my in-laws began to have spiritual conversations with their group of friends from their boating community. All these things were very strange for me as this was all very sudden and new. I found myself having conversations about Jesus at work with my friend and now with my in-laws.

My father-in-law passed on a copy of stories with God intervening in people's lives with a salvation prayer on the back. It contained a verse from Ephesians 2:8-10. It said that I was saved by grace through faith not by my works so I couldn't boast about it. God set everything up ahead of time. Man, I was working very hard to do all the right things and it was stressing me out! I said, "O.K. Lord. I am so tired of trying so hard. If this is true, I will try things your way." I prayed that he would help me to rest in him and I fell asleep.

The next morning, my whole worldview changed. Soon after that, a woman came into Donna's life and she rededicated her life to Christ. Since those early days, I have been in some kind of ministry role. Though I have been challenged in life, I'm grateful to know that the Spirit of God dwells in me and gives me hope to overcome!

"For everyone who has been born of God overcomes the world. And this is the victory that has overcome the world—our faith." 1 John 5:4
---
Click here to send a direct email to Philip.