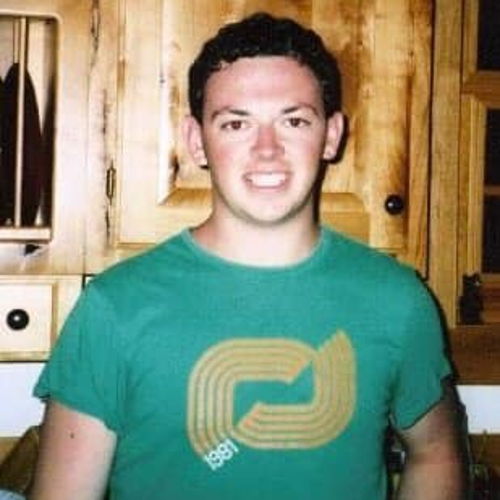 Dustin W.
from KS
Story #641
God Is in Control

This is my journey of Fatherhood. It's a wild and crazy journey that I absolutely love and wouldn't change.

My wife and I have been married for almost 14 years. 11 years ago we started trying to have children. This is how our journey began. One day 11 years ago my wife and I were sitting in our living room when we heard a knock at our door.

When we opened the door we found, to our surprise, a 2 year old girl and a 2 week old baby girl on our doorstep and the grandmother getting in her car and driving off. We took these kids in for 2 days while we researched and found the birth mom. After 2 days we returned the children to their mother and thus began our longing and desire of becoming Foster Parents. We began the long process of becoming Licensed Foster Parents. The following year we began fostering and took our first placement.

In the first year we took in 8 Foster Kids. Throughout this first year we continued to try and get pregnant. After going to doctor after doctor we were faced with the facts that both Tina and I had infertility challenges that we had to deal with. I had low sperm count and had to undergo a surgery and Tina was diagnosed with Polycystic Ovarian Disease.

In May 2009, one year after beginning Foster Care, Tina found out we were pregnant and that we would have a baby in January 2010. We were so excited and shared with our families the great news. One week later our world came crashing down when we miscarried. So much anger and hurt grew inside of me. I was hurt, I was mad at God for doing this to us. I remember being so mad that I saw Tina hurting and there wasn't anything I could do to make it better. We wanted kids of our own, so badly, I questioned God and argued with him daily. We decided what we needed was to take that summer off of Fostering and focus on healing.

On September 2, 2009 Tina received a phone call at work asking if we would be interested in fostering a baby girl that was born August 29th. We immediately said yes and they delivered her to Tina's work at 5:00 that evening. As soon as we got Daisy loaded up, we went straight to Walmart to purchase all the necessities, crib, diapers, formula, clothes, etc…. When Daisy was 6 months old her biological mother stopped showing up for visits with her and 2 months after her second birthday her adoption was finalized and she became our Forever Daughter.

At this point in our lives, Tina and I had both had multiple testing done and were told that the only way it was possible for us to conceive was to do invetro-fertilization. Through all of this we had finally realized that God wanted us to have one child and that child was to be Daisy.

In the summer of 2012, after several of Tina's co-workers request, Tina bought two pregnancy tests and upon taking them both tests turned positive immediately. We were officially pregnant. It was a long 9 months of pleading and praying to God, but on January 30, 2013 our beautiful baby boy Cole was born at 9lbs 11oz. 2 days after Cole was born things took a turn for the worse as Cole was jaundice and 1 point away from a blood transfusion. We spent 4 days in the NICU and on Februrary 5, 2013 we were released to bring our baby boy home. This was supposed to be the happiest day of our lives but upon arriving at our home, we discovered our back door was kicked in and we had been robbed.

So a day that was supposed to be happy turned in to a day where we had to shuffle our newly family of 4 off to my in-law's and deal with police and dusting the house for fingerprints. After finally being able to settle in, a week later I returned to work. As I was driving to work on my first day back a driver didn't see me coming and hit me head on going 65 mph thus totaling my car. And as if that wasn't bad enough a week later I was hit in my brand new car in the Walmart parking lot in Webb City. Again the pleading and questioning of God began again in my life. God, I have been through enough with the scare of Cole being sick and the robbery, and now not one but two car accidents.

Seriously God, I can't take much more. Well two months later my job was at jeopardy and I was told I had two weeks to improve or I was not welcomed back the following school year. After support from several colleagues and my boss at the Interlocal I succeeded and wowed my administrator and the following year had a 110% turn around of improvement.

Finally after all the craziness subsided we were happy, we had our perfect family, one boy and one girl and our family was complete. But again, God is in control and had other plans for our life. Around the time of Cole's birth, Daisy's biological mother had another baby. This time it was a little boy named Charlie. Charlie ended up in a foster home in the state of Florida. Tina and I went down to Florida to one of his court dates and expressed our desire to adopt Charlie and keep the siblings together so that they could have a relationship. Florida went behind our backs and Charlie was adopted by the Foster Family in Florida. Since then we have become good friends with that family and have been able to visit them 6 times to reunite the siblings and keep contact.

In the mean time 1 year after Cole and Charlie were born Daisy's biological mother gave birth again. This time to a little baby boy named Alex. Alex was born positive for meth and had convulsions mimicking seizures, all resulting in developmental delays. After 11 months of being in Foster Care in the state of Missouri, Alex came to live with us in Kansas. After another 11 months of residing with us, Alex became our Forever Son and was adopted in November 2015.

So once again our family was complete, but once again God has different things in mind. Early June of this year the Foster Family of yet another sibling of Daisy and Alex, called Tina and said they did not have a connection with the baby brother, named Henry. After lots of praying and talking to God, Tina and I officially adopted Henry December 20, 2018.

See God is in control and knows what needs to be done in our lives. I've always thought things should go my way and my will be done but I've learned the hard way that it's not my will be done, it's God's Will be Done. Our journey isn't over yet and I don't know what the future holds for us but I know now that I trust God that whatever he has in store for us I will be ready with open arms to receive the gifts that he has for us.

Throughout this whole journey I had always been going to church but I was just going through the motions. I was just "playing church". There came a point in my life where I was attending a Men's Encounter and it changed my life. I truly accepted Jesus back in to my life and rededicated my life to him and growing on a spiritual level. That's when I realized I needed to repent and that I was a sinner and needed God in my life.
---
Click here to send a direct email to Dustin.