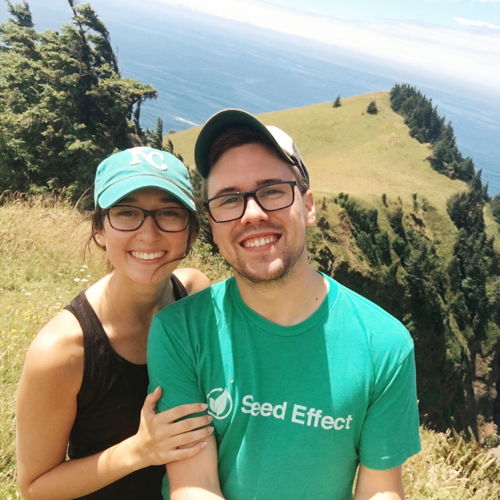 Halie L.
from KS
Story #657
My name is Halie Linduff and I am a follower of Jesus Christ. I was raised in a Christian home where my parents prayed with me, told me about Jesus and brought me to church. This was just the beginning of my story. At a young age I realized it was not enough to just know things about Jesus and I saw the importance in having a personal relationship with Him. I gave my life to Christ while I was in 3rd grade and from that point on I was forever changed. As a child coming to know Christ, I knew that I was sinful and I needed a Savior, a Savior who gave me His saving grace. I knew that without Jesus I was lost and destined for an eternity without Christ. Romans 3:23 tells us that because of our sin we are separated from God forever. But that is not the end, God sent his one and only son to die on the cross and on the third day He rose again. Without this, our sins would eternally separate us from God but because of this we are able to be in right relationship with Him. All I had to do was ask God to forgive my sins and believe in my heart that Jesus is my Savior. At that moment when Jesus spoke to me and and I asked him to forgive my sins and to be the center of my life, I was forever changed. Even as a little girl I was forever changed. My conversations changed, my attitude changed and most importantly what I was living for changed. I knew that there came great responsibility having heard the Gospel and that mean't that my mission in life is now to share the Gospel with those I encounter.

As I continued to grow so did my faith. My faith in Jesus became more real and God began to change and mold my heart into exactly who He has called me to be. My middle school and high school years had a great impact in my walk with Jesus. I spent a lot of time studying my Bible and prayer journaling. Through this I grew closer to God, just as a I continue to do today. While in early High School I prayed to God that he would grow me closer to Him so that I could know Him more deeply. I needed God to truly be the center of my life and I began to understand Him in a deeper more meaningful way. I am so thankful for a church who invested in me in my middle school and high school years.

God has proved himself faithful time and time again in my life. God has become the true center of my life where I find my security and strength. God has called me to Education where I have the opportunity to show kids the love of Christ who may not see it in any other way. God has continued to guide me and teach me each and every day.

My life verse is Jeremiah 29:11 "For I know the plans I have for you declares the Lord, plans to prosper you and not to harm you, plans to give you a hope and a future." I have seen this verse to be true throughout my life and I continue to do so today. God has plans for you, a hope and a future! You will never regret following Jesus, it will be the best decision you ever make! A life in Christ is more rewarding then you could ever imagine. Although it is not always easy, it is worth it and God will be with you every step of the way.
---
Click here to send a direct email to Halie.