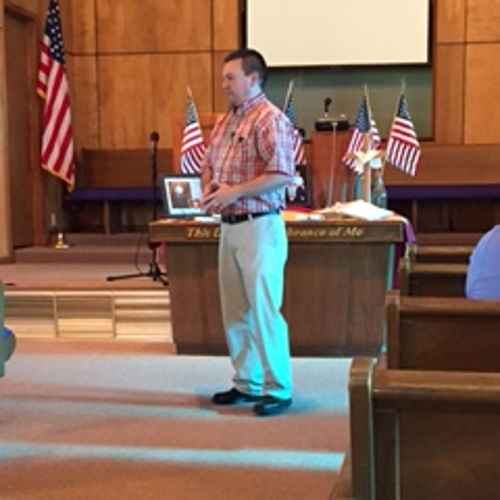 Micah P.
from MO
Story #663
My story begins with the great blessing of growing up in a Christian home and family. I am truly grateful that the Lord allowed me to grow up in a Godly atmosphere. Church has always been a part of our lives and at the age of 10, I accepted Jesus into my life at a little Bible camp in Ottawa, Kansas. As a 10 year old boy, nothing really changes other than the fact that you want to live your life in a way that pleases God. Another blessing in my life was having a dedicated youth pastor that took the time to mentor me and teach me the truths of God's Word. It was during these Bible studies that God confirmed to me that He wanted me in full time ministry.

After graduating high school, it was off to Bible college. At Bible College, I began to realize the importance of not only knowing what you believe but why you believe it. So many people get taught the truths of the Bible but never really begin to put faith into action and see the reality of what God wants to do in your life. This was the light bulb moment for me! God began to work on my heart again and I began to not just know the truths intellectually but in reality. Understanding why you believe the Bible gives a whole new meaning to living. God's Word is true and never returns void. This gives great hope in life.

We see the tragedies and heartache of the world and it should break our hearts to see so many people discouraged and living without hope. When a person begins to lose hope, they begin to go down hill spiritually, emotionally, and many times physically. God's Word has the answers is more true than we many times realize. God loves you. God made you special and a master piece in His eyes. Do not let the negativity of those around you cause you to doubt what God has said to you. Many know the story of Joshua and Caleb in the Bible. They had this confidence in God but the nation of Israel listened to the 10 spies and their negativity causing them to wander in the wilderness for 40 years. Do not wander aimlessly around life looking for hope, trust God and His plan for you. Knowing God is knowing the hope that lies within us. The challenge for us today is to live life with hope and purpose because that is how God designed us to live.
---
Click here to send a direct email to Micah.