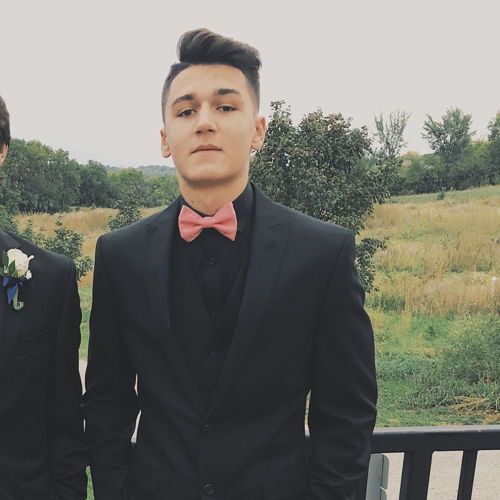 Sam F.
from KS
Story #667
My family is a rooted Christian family, and has been for many generations. Because of that, I grew up around many Christian influences and adults that all influenced me in my beliefs and faith. I have always grown up around brothers, sisters, relatives, and peers that were Christian, so my life has always consisted of those things. When my grandpa died though, my mom explained to me the intricacies of believing in the lord the best she could. She explained to me that we are all born sinners and need Jesus' guidance and love in our lives to make it to heaven. I obviously told her that I wanted to believe in something that gave me hope and would allow me to eventually go to heaven and spend the rest of my life in a place filled with fellow believers and family.

After my mom described to me the details with my grandfather's death, she told me that believing in God would allow me to have a hope and faith for the future, and also one day see my grandpa again. That same night when I was sitting on the kitchen counter of my home at age four, I told my mom that I wanted to accept Christ into my heart and become a Christian. Though I vaguely knew what I was doing, my decision was a permanent thing that I have decided, and has continued to be extremely important to me today as I go through life.

As I have grown and matured, I have encountered several hardships, struggles, and difficulties that have really made me question my faith and my self-worth. Many times I have even doubted God, and haven't completely understood what he was trying to work into my life. I think though, that having a strong foundation in my church and peers is the difference maker. Christ has presented numerous opportunities, people, friends, and scriptures in the bible that I have been able to rely on in times of trouble. I cannot begin to imagine what life would be like without God. This is because he is my everything and provides me with more than I can ask for, and also protects and guides me in my daily life.

One extremely momentous moment in my life that tested my faith, was when my good friend Nate died. Nate was a very close friend who was extremely dependable and compassionate, he truly embodied what it meant to be a friend. Nate and I did a lot together. We went to every church event, lock in, camp, and retreat over the past four years and formed a very tight bond. When Nate decided to take his life in December 2017, i was devastated. I had never personally experienced death before, and here my own best friend took his life. He was gone.

I was extremely hurt, lost, confused, and broken for a very long period of time. Losing such a close friend at such a young age really opened my eyes to the destruction and damage that the devil causes on earth; I had never experienced anything like it.I still haven't, and probably never will recover from the loss of Nathan, but it was through the church body and church family that i was able to get myself out of that hole and completely revitalize my love and trust in God. The amount of people and church family that supported my friends and i through this difficult time gave me hope and encouragement to hold steadfast in my faith.

The church family and peers guided me to certain verses and scriptures in the bible that allowed me to bolster my faith and understanding of God. As i am no longer angry at God for taking my friend, I have been able to grow in my faith and trust God completely and fully in the midst of a difficult situation. God has provided me with the assurance and faith that he did the right thing with Nathan's life, and that i need not worry because God is in control of mine and every one else's life.
---
Click here to send a direct email to Sam .