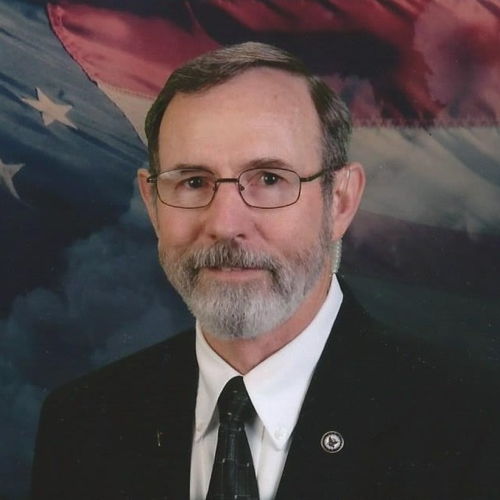 Jerry H.
from MO
Story #671
My parents took me, my two brothers and my sister to a Baptist church for a short time when we were kids but I didn't understand much then. I remember my sister and my mother being baptized in that church. I was only 7 or 8 at the time. My father was in the Navy and when we moved to a different State we never went back to church. My sister, Fleeta, always went, though. As I got older I believed God existed and I actually thought I was a Christian. Christmas and Easter was mostly what I knew about Jesus. When I was in high school, my girlfriend, then, invited me to go to church with her one Sunday. It was a little country Southern Baptist Church. I decided to go and that day I paid attention to the bible being preached for the first time in my life. The pastor preached on Luke 16:19-31, The Rich Man and Lazarus. Well, he had my attention. From that service on, I was troubled about what would happen to me after I died. The pastor met everyone as we left the service that morning and he said to me if I had any questions he would be happy to talk to me about them. A few weeks later, on July 5, 1967, a Wednesday evening, I decided to go see that pastor. As I came up to the church I saw the parking lot was full of cars. I didn't know what was going on but I wasn't going to stop with all the people there. After driving around for while I drove back by the church on my way home. Amazingly, the pastor and his wife were walking up the road near the church, so I stopped and we talked for a minute. They lived in a small house on the church property and I ended up giving them a short ride back. The pastor led me to his office and there explained the plan of salvation to me, that I was lost and separated from God because of my sins. He said Jesus loves me and died for my sins on the cross and then was raised from the dead, and if I asked God to forgive me and asked Jesus to come into my heart and save me He would. Afterward, he invited me to pray and receive Jesus and I did. I believed what Jesus said in the Bible. I was forgiven and God gave me the gift of eternal life. I knew at that moment my faith was real. I went home that night knowing I was going to Heaven when I died. I remember I was very happy! Looking back I can see God's hand in everything that happened.

Since I became a Christian I have had many ups and downs, but Jesus never left me. Years ago, when I quit going to church for a time, stopped obeying Him and followed my own path without Him, I was not content. When I turned around, came back to Him and asked for His forgiveness, He loved me and forgave me. I try to live for Him, but when I often fail He forgives me, accepts me and helps me learn how to love Him. All my sins, past, present and future have been forgiven, as yours can be, too, if you will trust Him. Without Him I would be lost. I trust Him in everything, whether good things or bad things happen to me. I know He is in my heart. Knowing that Jesus loves me, my life is complete. Being able to serve God is a great satisfaction. Everything I need to know in how to live this life He gave me, He shows me through His Word, the Bible. My prayer is that everyone would have the hope that I have.

If I could, one thing I would give you is this hope I have in life, that this isn't the end for us. If I were to find the most priceless, valuable thing in the world, I would share it with you. There is a true story of two brothers; one brother found someone who promised him eternal life if he believed. The first thing he did was run and find his brother. He told him about it and took him to see the man so he could have eternal life, too. Those brothers' names were Andrew and Peter. The person who offered them eternal life was Jesus. That is the most valuable thing in the universe. The hope I'm talking about is the hope I have, by faith in Christ. I have done bad things (sins) in my life. The thing is, everyone has failed to live a sinless life. The problem is, we have to be perfect to be allowed into Heaven, and no one is! The result is, we have no hope of life after death. We are all guilty and we will be condemned to exist forever, without God, in eternal punishment. BUT, Jesus loves us. He came, lived a perfect life, sacrificed himself for us all on the cross, died, and was raised from the dead and lives at the right hand of God the Father today! The blood Jesus shed for us on the cross covers our sins forever. If we ask Jesus to forgive us, He will. 1 John 1:9 says, "If we confess our sins, He is faithful and righteous to forgive us our sins and to cleanse us from all unrighteousness." I know, because He forgave me. We come to Jesus as we are. We don't have to somehow clean up our lives first. He loves us as we are. He died for us as we are. He will forgive us if we sincerely ask Him to. Then, He will come and live in our hearts forever and give us the gift of eternal life and a new heart. When we die we will see Jesus and everyone else who believes. I am looking forward to seeing so many of those who have already died and passed into eternity, people I have loved. Someday I will die, but then I will see Jesus. No one wants to die, but I am not afraid because it is not the end. I have hope and you can have hope, too! 1 John 5:11-13 says, "11 And the testimony is this, that God has given us eternal life, and this life is in His Son. 12 He who has the Son has the life; he who does not have the Son of God does not have the life. 13 These things I have written to you who believe in the name of the Son of God, so that you may know that you have eternal life."

Every Sunday I go to church, I look forward to seeing my dear friends, brothers and sisters of all ages who are believers like me. We share our hopes, our troubles, and our faith. We pray for one another, encourage one another and help one another in times of need. We worship God together. I love Jesus and hope to serve Him until the day He takes me home to be with Him forever.
---
Click here to send a direct email to Jerry.