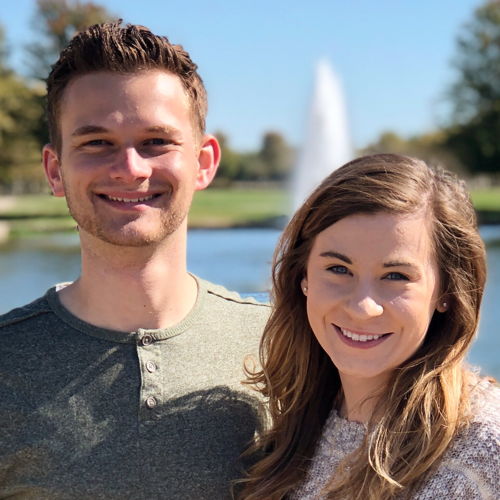 Luke P.
from KS
Story #679
I was blessed to have grown up in a Christian home with loving parents. Even with a good home life that was rooted in God's ways, it was natural for me to only care about myself. Whenever I would not get my way I made sure I did something to get what I wanted. You would have thought that disobeying my parents was my favorite hobby. Whenever I would do something wrong, I would quickly lie in an attempt to fool my parents. Of course my parents usually knew what I had done wrong and I would have to deal with the punishment that I rightly deserved. I was stuck in a cycle of sin and misery with no end in sight.

Around the age of 6 I was at church and heard that I was a sinner, that Jesus had died for me, and that I needed to repent of my sins and place my faith in Jesus. No one had to convince me that I was a sinner; I knew that. Every time I did wrong a voice inside me would strongly remind me that I was not doing the right thing. At first I resisted this message that I needed saving, but after a sleepless night of great conviction, I told Jesus that I was sorry for the wrong that I had done and that I wanted Him to come into my life and make me new. It was at that moment that I placed my faith in the complete work of Jesus. After that I went to sleep with a peace that is unexplainable.

Since then I have grown in my relationship with Jesus Christ. I have not lived perfectly but I am no longer a slave to my former sin. I now have the ability through Christ to resist sin. In the years since I accepted Christ I have gone through many difficult trials, but He has been faithful to stay by my side. As I faithfully read my Bible and spend time talking with Him, He directs me in the way He wants me to go.

What about you? Regardless of your story, no amount of sin is too much for Christ. Apart from Christ there is nothing that can save you or satisfy the deepest longing in your heart. I have tried to live without Christ and it only left me depressed and hopeless. It is my prayer that as you read my story of salvation you will understand the reality of your sin and the immense love of Christ. He loves you more than anyone else is able. He desires a relationship with you.

The Bible says, "there is joy in the presence of God's angels over one sinner who repents" (Luke 15:10). Would you like to repent of your sins and give the angels a reason to rejoice?

*We are all sinners- "For all have sinned and fallen short of the glory of God" (Romans 3:23).
*The penalty for sin is death- "The wages of sin is death" (Romans 6:23a).
*Forgiveness is found only in Jesus- "For God loved the world in this way: He gave His One and Only Son, so that everyone who believes in Him will not perish but have eternal life" (John 3:16).
*Salvation is by faith- "For you are saved by grace through faith, and this is not from yourselves; it is God's gift— not from works, so that no one can boast" (Ephesians 2:8-9).

While your eternity hangs in the balance salvation is only a prayer away. Will you reach out in faith and accept Jesus' free gift of salvation?

---
Click here to send a direct email to Luke.
You can learn more about Luke
here
.
The above link will take you to a site not related to 1MillionStories.org. We do not endorse opinions expressed on external websites due to the inability to properly review the content of every linked site.